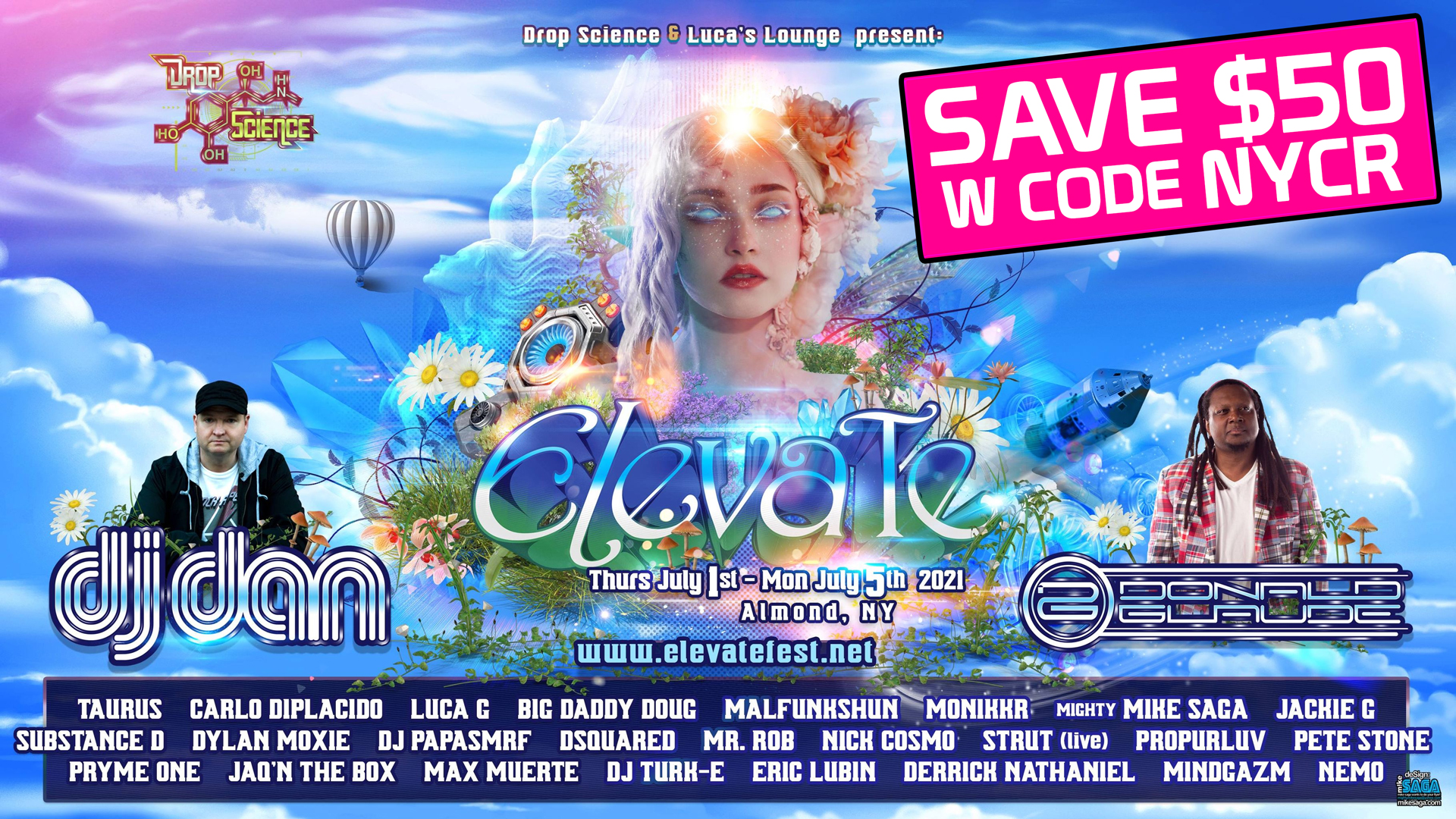 Elevate Music and Arts Festival
Elevate is an arts, music, and community gathering that encourages expressive arts, sustainability, and personal development. Surrounded by nature there is a magical land where Drop Science and Luca's Lounge together will bring music, art, and love. This 21+ event is happening July 1st to July 5th, 2021 in Almond, NY. As a special cucaw for NYCR followers you can Save $50 on your ticket by using code NYCR at checkout.
FACEBOOK EVENT BUY TICKETS VOLUNTEER WEBSITE
Save $50 on your ticket by using code NYCR
From the outside looking in… Elevate may come across as just another Music Festival. That couldn't be further from the truth.
Elevate is an incredible and unique celebration of radical inclusion, self-expression, active participation and an experiment in organizing society in an alternative way. Underlying all of this is the core philosophy of "leave no trace behind."Elevate is an art, music, and community gathering that encourages expressive arts, sustainability, and personal development.
Elevate is driven with a unique vision shared by the event organizers, This one of a kind event will truly transport you away to place of pure jubilation. Tucked away in a magical corner of the Catskill Mountains, Elevate will truly do that as we convene under the Milky Way to the sounds of the best DJ's Drop Science & Luca's Lounge could curate for this 4 day camping experience.
As always Drop Science & Luca's Lounge events are LNT events (Leave No Trace) Elevate is no different.

We want to be able to keep coming back to our magic corner of the world and in order to do so we have to take care of it while we are there.
We want every single person to feel welcome at Elevate. This is an inclusive event. One of the biggest contributors to ones ability to let go and participate is safety. With that said, Elevate will be following all Covid-19 safety protocols for outdoor events. We are requiring all Dj's Performers, attendee's and staff to present a recent Covid-19 negative test no sooner than 3 days before the event OR a covid vaccination card showing you have been fully vaccinated. (This is a zero tolerance policy) Meaning…if one person in your vehicle cannot produce a negative test, OR a covid vaccination card, your entire party will be not be permitted for entry.
Consent…. Consent is not just strictly limited to sexy vibes. It could be a hug or the sharing of a pool float (Yes there is swimming!!!)
Please respect the space of others if they do not wish for it to be occupied by another.
Please no photos or videos of any kind of other participants unless prior consent was given. At any given time if you do not consent to a photo taken, even after it has been taken, We will see to it that that picture will be taken down from all platforms.
This is a camping event. Self reliance and sustainability are paramount. This means please make sure to bring all food/water/shelter/etc that you will need to be able to survive for 4 days. This event does take place in the mountains. Be prepared for possible colder temps in the evening. This is also a Rain or Shine event. We will be keeping an eye on the weather leading up to the event and will keep you updated when we are days away from the event. If you have any special needs, please reach out to the organizers to see what arrangements, if any, can be made.
You can purchase ice with your tickets and it can be picked up on site Saturday at Noon.
10 lbs bags: $10.00
PLEASE PRE-PURCHASE ICE WITH YOUR TICKET.
Next Event
Date

August 19 - 22, 2022

Time

All Day