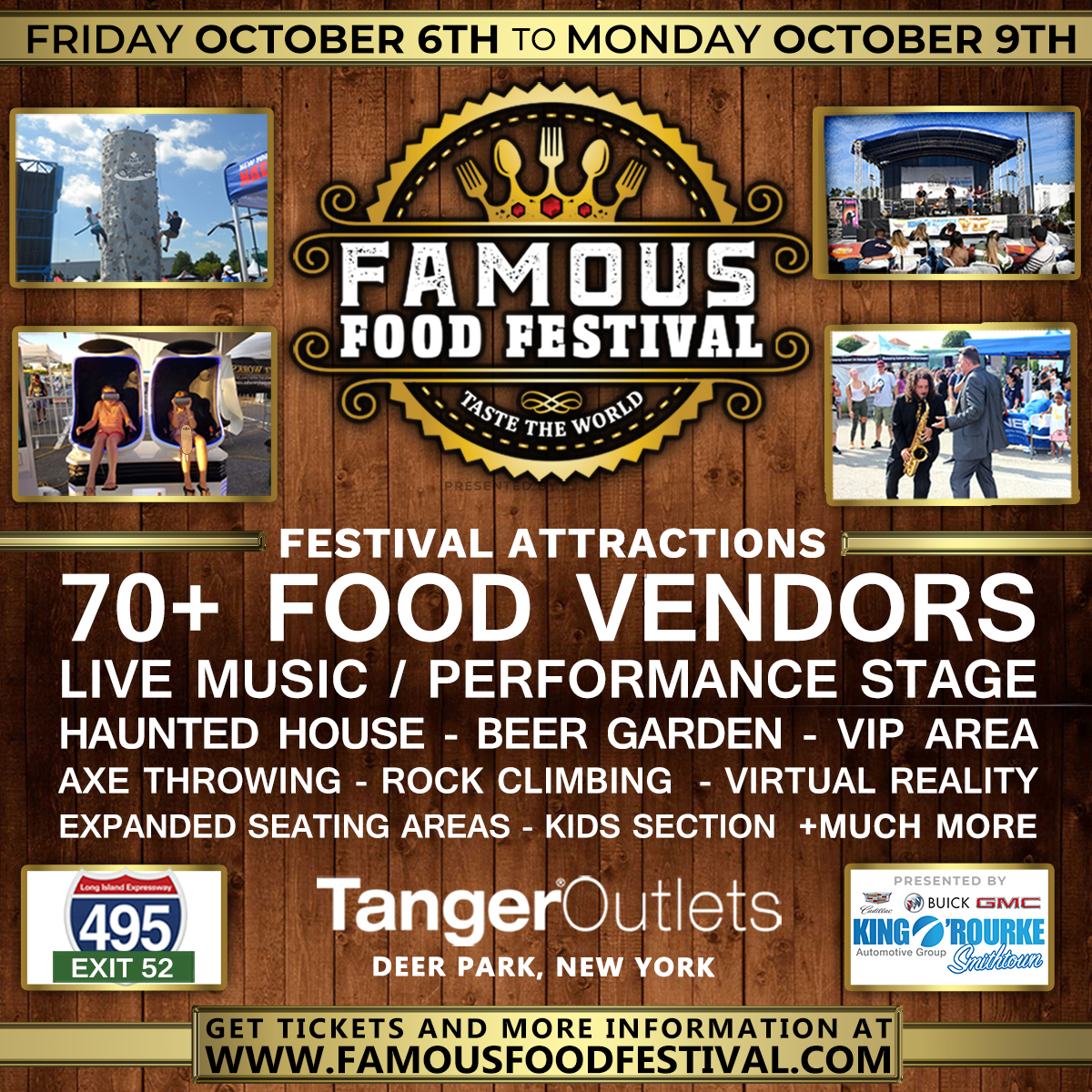 Famous Food Festival 2023
Famous Food Festival "Taste the World" Long Island Returns To Tanger Outlets (Deer Park, NY) | October 6th-9th, 2023
FAMOUS FOOD FESTIVAL RETURNS THIS COLUMBUS DAY WEEKEND!
Join us for a culinary adventure as we invite you to "Taste the World" with delectable dishes inspired by countries from all around the globe. With over 70 food vendors on deck, get ready to savor some of the best cuisine that the Tri-State area has to offer!
Our goal is to bring Long Island a festival that they can be proud of – one that's filled with unique and exotic eats that will tantalize your taste buds. But that's not all; there's plenty of entertainment for the entire family to enjoy. Including live music performances all day, expanded seating areas , a bohemian beer garden, cooking demos, local artist galleries, a haunted house, Axe Throwing, a miniature golf course and a kids' section. There truly is something for everyone.
This all-ages fun for the whole family event is only $8 (Online) to attend each day and discounted for multiple day entry! See all the ticketing options 1, 2, or all 4 days! Tickets at the Door (1 day) Will be available that day for $12 per person. Children Ages 8-12 Only $5, Children 7 and under free. Guarantee your ticket today! *
Experience the food festival that Long Island deserves at this year's Famous Food Festival!
(*Limited Availability)
This year's Famous Food Festival is Proudly Presented by King O'Rourke Smithtown
▇ SPONSORS ▇
Department of Public Service Long Island Office | Foodie Card | GT's Living foods | Kona Ice | Leaf Filter Gutter Remodeling | Long Island Nets | Momentum Solar | New York Life – Antonia | Northwell Health | Pale Moonlight wine | Power Home Remodeling Group | Pure Raw Honey | Realty Direct NY | Renewal By Anderson | Saf-T-Swim – Deer Park | Travel Smart vacay
▇ FOOD VENDOR LINEUP ▇
36 Spice | Anda Cafe | Bad Mon Jerk Chicken and Waffles | Baiting Hollow Farm Vineyard | Bangkok Street Food | Bombcorn Chicken | Bona Bona Ice Cream | Brooklyn Baked & Fried | Brothers Lemonade LTD. Buzz'd Express Coffee | C&V Festivals Foods | Chickys | Cousins Maine Lobster |
#DeepFriedWatermelon
| Deliciously Alicias | Doughnuttery | Duchess Cookies | Dumpling N' Dips | East Coast Tuna Candy Inc | Emilys Apple Puffs | Exotic Bowls | G&L Gyro | Grilled to Perfection | Hangrydog | Hush Truck | ICREW USA INC (SAUCE UP NYC) | Island Spice Grill | Jersey Pickles | Kinky Taco | Knots of This World Pretzels | Krazy Chef's Foods Company | Kuu | La Braza | La Rosa Chicken & Grill | Lakeland Winery | Latin Flavor | Lauretta's British Ginger T | Laylo's Wish Foundation | Lechonbae | Lemonade Smash | Matilda | Meats Meat | MM Sweet Shop | Oyster Party | Parlo Kitchen Inc | Perros Locos Gourmet Sausages | Pina Colada Perumex | Puff Pancakes | Rollin' Ghost | Sam's Fried Ice Cream | Sapori D'Italia Catering | Shrimpy's Burrito Bar | Side Hustle Bread Italian Flatbread Truck | Sweets n' Treats by Jess | Swizzled Desserts | T.L.C. Seafood and Catering | T's Chicken and Fish | Tacos El Guero | Tashana's Kitchen | The Better Man Distilling Co | The Churro Chick | The Pie Hole | The Pudding Lady NY | Tntpineapple | Twisted Potato | V-roll | Wood Fired Edibles Pizza & Cookery | Yani's Food Sensation | Yari's Good Eats | Your Jerk Yard
More vendors TBA! Want to vend? Contact us at vendors@famousfoodfestival.com
▄▄▄▄▄▄▄▄▄▄▄▄▄▄▄▄▄▄▄▄▄▄▄▄
▇ SPECIAL FEATURES ▇
+ 70+ Food Vendors serving Tastes from Around the World!
+ Live Music All Day
+ NEW
Bohemian Beer Garden
+ Virtual Reality
+ Rock Climbing
+ Real Axe Throwing
+ Mini Golf Course
+ NEW
Haunted House
+ The Art Bazaar by @Colored.Colors
+ Kids Section with Face Painting, Henna, Stuffed Animals and rides.
+ Red Carpet Photo Booth Opportunities with Fun Backdrops
+ Psychic readings!
+ 360 Photo Booth
▄▄▄▄▄▄▄▄▄▄▄▄▄▄▄▄▄▄▄▄▄▄▄▄
▇ ABOUT THE FAMOUS FOOD FESTIVAL ▇
Can you think of a more enticing expression of culture than food? Welcome to the ultimate culmination of Culinary Arts in the Food Festival Industry! Our Community Food Festival event production company consciously focuses on creating a distinctive food festival experience through delivering the opportunity to taste the world and blend together all of the most delectable and flavorsome ingredients stemming from a myriad of different cultures and food.
▄▄▄▄▄▄▄▄▄▄▄▄▄▄▄▄▄▄▄▄▄▄▄▄
▇ LOCATION ▇
Tanger Outlets, Deer Park (In the South East Parking Lot)
152 The Arches Cir
Deer Park, New York 11729
▄▄▄▄▄▄▄▄▄▄▄▄▄▄▄▄▄▄▄▄▄▄▄▄
▇ TICKETS ▇
This is an All Ages Family Friendly Experience,
Online Advance Tickets are:
$8 for One Day Pass
$12 for 2 day Pass *
$18 for 4-day Allstar Pass*
Children 6 and under get in FREE, Ages 7-12 Years: $5
** Tickets will be available for $12 for One Day Passes at the door! **
Save 25% with code NYCRFAM