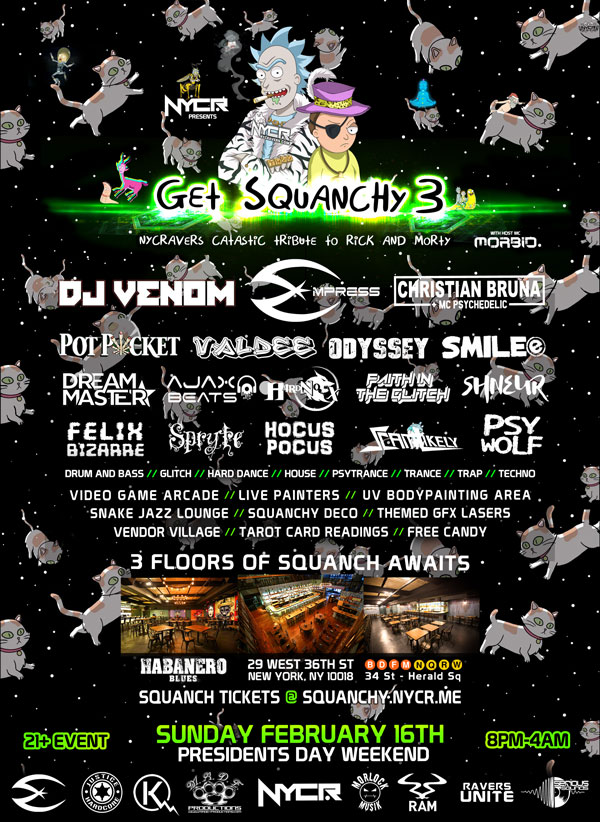 Get Squanchy 3 by NYCRavers
NYCRavers' CAT-TASTIC Tribute to Rick and Morty is BACK

ARE YOU READY TO GET SQUANCHY NEW YORK CITY?
ATTENTION INTER-DIMENSIONAL RAVE TRAVELERS! NYCRavers' 3rd annual raving tribute to Rick and Morty returns on 2/16/20 to show New York City how to GET SQUANCHY once again. This party will certainly TEAR A HOLE IN THE VERY FABRIC OF SPACETIME WITH ITS AWESOMENESS.

Squanching On President's Day Sunday February 16th, 2020
*NO SCHOOL / WORK THE NEXT DAY*
█▓ SQUANCHY LINEUP ▓█
* * A Beautifully Different Multi Genre Musical Journey Awaits… * *
** LEGENDARY HARDSTYLE + DNB HEADLINERS TBA IN PHASE 2 INFO DROP **
Christian Bruna + MC Psychedelic
(Camouflage NYC / NYCRavers, NY)
*Drum and Bass Magic*
*FIRST NYCR PERFORMANCE*
Odyssey (Konkrete Jungle, NY)
*Special Squanchy Techno Set*
Potpocket (Justice Hardcore, OH)
*Multi Genre*
ValDee (M.A.D.E. Productions, CT)
*Drum and Bass*
DreamMaster (NYCR, NY)
*Hard Trance Anthems*
DJ SMILEe (Twisted Sounds, NY)
*Old School Trance*
THE LAST DJ PERFORMANCE OF….
DJ H4RDNoX (NYCR, NY)
*HARDSTYLE*
Faith in the Glitch (Night.Wav, NJ)
*Glitch*
AJAXBEATS (NYCR , PA)
*LIVE LoFi*
Oscillot (NYCR, NY)
*Multi Genre*
DJ Spryte (NYCR, NY)
*Future Trap*
Scam Likely (Ravers Unite NYC, NY)
*Multi Genre*
DEBUT PERFORMANCE OF…
PSY WOLF (NYCR, NY)
*PSYTRANCE*
█▓ EXTRAS ▓█
█▓ TICKETS ▓█
$10 Limited Early Squanchers SOLD OUT
$15 Tier 1 SOLD OUT // $20 Tier 2 // $25 Tier 3
$29 Day of While Supplies Last
21+ Event, you must have valid ID.
*Extremely likely we will sell out, get your squanch in advance!*
█▓ SQUANCHY THEME ▓█
This event is a tribute to Rick and Morty, an animated series about a scientist who discovers interdimensional travel Rick and his Grandson Morty. The show was created by Justin Roiland and Dan Harmon in 2013 and has been renewed for 10 seasons by Adult Swim. This rave is done by fans and we are unfortunately not affiliated with these awesome people.
Watch Rick and Morty at https://www.adultswim.com/videos/rick-and-morty/
█▓ PAST EVENT PICS ▓█
And that's the WA-A-A-AY the rave goes.