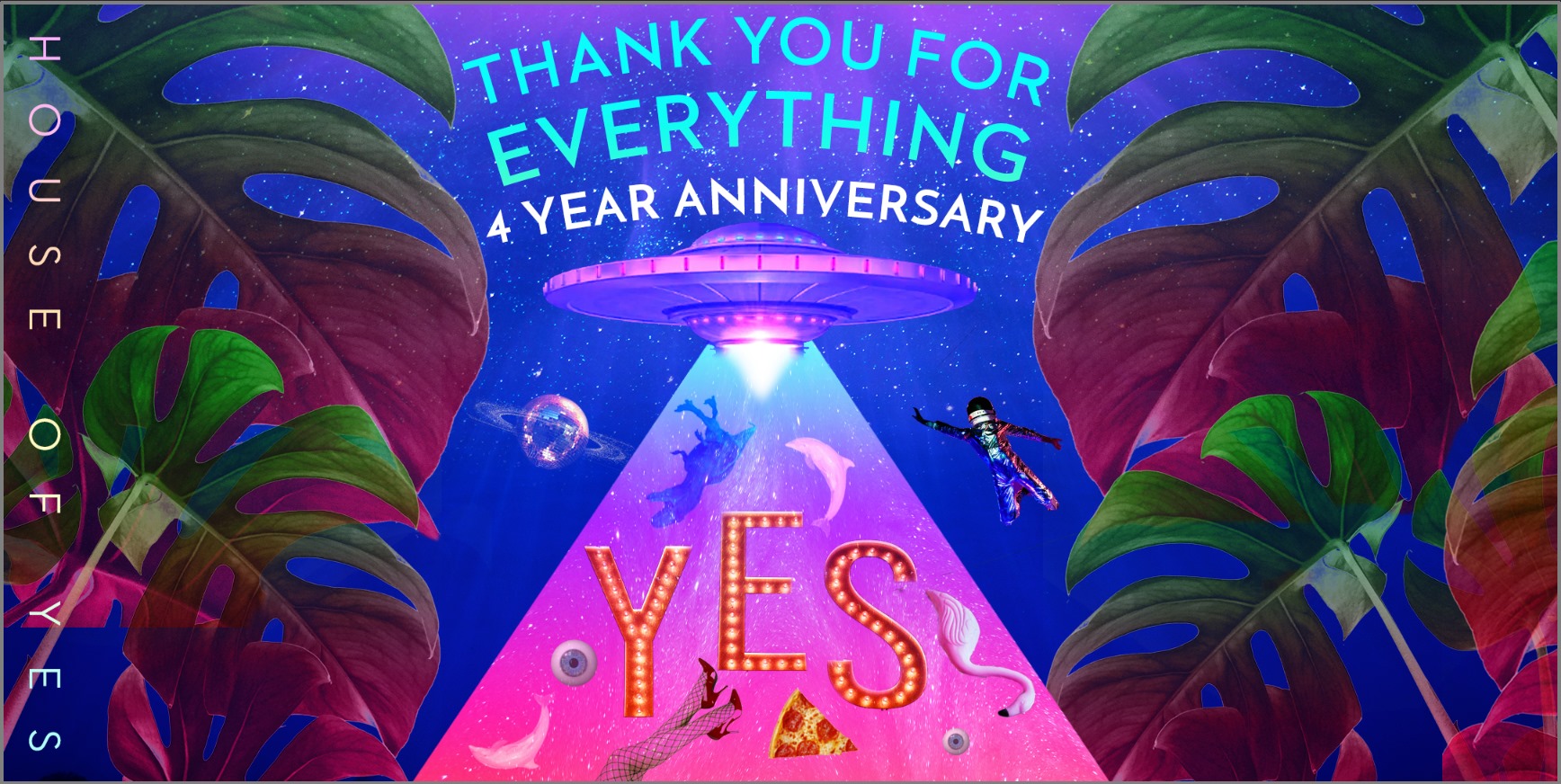 HOY 4 Year Anniversary
2 DAYS OF EPIC PARTIES & SPECTACLES TO CELEBRATE 4 YEARS OF HOUSE OF YES!!
Friday January 3 + Saturday January 4
TICKETS: http://bit.ly/2svPR6f
We've officially been open in our current home for 4 whole years of glory and chaos! So let's dance!
From basements to lofts to kitchen fires and warehouses and rent hikes into a real nightclub. Parades, parties, performance and art. We started small and just never stopped. We tend to celebrate life everyday, but this moment calls for an extra special party to honor the past that brought us here.
This is for our friends who always come back, the friends that stay that extra hour, the friends that share and grow with us, the friends make House of Yes exist as not just a venue or community but as a mission.
Thanks for being the reason we wake up and work hard.
Thanks for making nightlife history.
THANK YOU FOR EVERYTHING!
: : : LOOKS : : :
Celebratory looks! Costumes, drag, drama, glitz, glamour, rainbows, sequins, birthday suits, explosions of color – turn it up, it's a birthday damnit!
See more inspiration here: https://pin.it/a5hkrjlqodpify
: : : MUSIC : : :
Stay tuned for our 2020 Resident DJs annoucement!
: : : FEATURING : : :
Aerial and go-go dance art by our resident performers
Music by our resident DJs
Drinks by our resident bartenders
Watermelon by Anya
+ cake, balloons, surprises, and more!!
21+ | No Re-Entry
::::::: FREE-BEFORE-11PM RSVPS :::::::
• An RSVP on Eventbrite is required to get in for Free before 11pm.
• There is no free entry at the door before 11pm without an RSVP.
• Free RSVPs go live when the party is announced.
• A final batch of 50 RSVPs will become available at 9am Monday on the week of the event.
• RSVPs are NON-TRANSFERABLE. Your name on the RSVP must match your legal ID.
• Selling a Free RSVP for money is against the spirit of House of Yes – don't do it!
::::::: SAFER SPACES POLICY :::::::
House of Yes is a space for everyone to feel welcome. We have a zero tolerance policy for harassment, unwanted touch, homophobic, transphobic, racist, sexist, ableist, or ageist behavior. Always ASK before touching anyone at our events. If someone is making you uncomfortable or harassing you, please come speak to a security guard or ask for a manager. We will believe you, and we will help. All restrooms in our venue are gender neutral. Everyone is free to use the restroom that best fits their gender identity or expression. All entrances and spaces within the venue are single-level. There are stairs leading to the upper portions of the stage, for those who wish to dance in the spotlight. Strobe lights are used during performances and parties. Questions about our consent policy or procedures? Email consent@houseofyes.org.
::::: TICKETING POLICY :::::
All events are 21+. Valid ID is required for entry. We can only guarantee the validity of your ticket if purchased directly from Eventbrite or Resident Advisor. Any tickets purchased second-hard or via third party vendors cannot be validated or accommodated in the event of an issue (fake or duplicate tickets). Be vigilant about ticket scammers; do not send money unless the ticket seller can prove they are able to do an official ticket transfer. Reselling a ticket above face value goes against the spirit of the event – Don't do it!