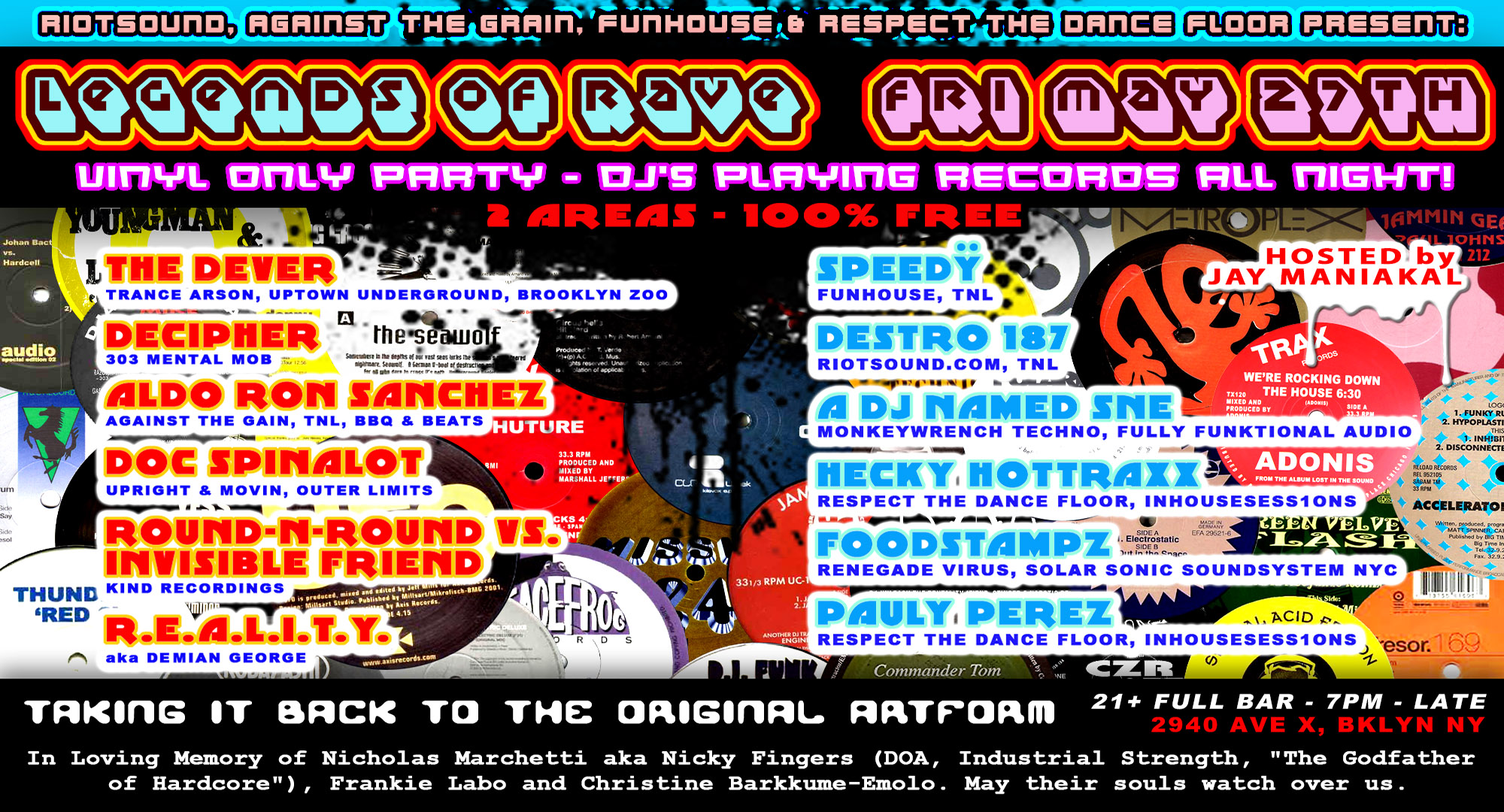 Legends of RAVE – FREE Vinyl Only Party
Vinyl ONLY Party – DJ's Playing Records all night! For one night only, we are taking it back to the original artform! The true school!
Presented by RiotSound, Against The Grain, Funhouse & Respect The Dance Floor: In Loving Memory of Nicholas Marchetti aka Nicky Fingers (DOA, Industrial Strength "The Godfather of Hardcore"), Frankie Labo and Christine Barkkume-Emolo. May their souls watch over us. This 21+ event is 100% FREE for the Culture.
FEATURING (in 2 Spacious Rooms)
THE DEVER
Trance Arson, Uptown Underground, Brooklyn Zoo
DECIPHER
303 Mental Mob
ALDO RON SANCHEZ
Against The Grain, TNL, BBQ & Beats, The Usual Suspects
DOC SPINALOT
Upright & Movin, Outer Limits
SPEEDŸ
Funhouse, TNL, The Usual Suspects
A DJ NAMED SNE
Monkeywrench Techno, Fully Funktional Audio
ROUND & ROUND vs INVISIBLE FRIEND
Kind Recordings
R.E.A.L.I.T.Y.
aks Demian George
FOODSTAMPZ
Renegade Virus, Solar Sonic Soundsystem NYC
PAULY PEREZ
Respect The Dance Floor, InHouseSess1ons
HECKY HOTTRAXX
Respect The Dance Floor, InHouseSess1ons
21+ w/ID
Full Bar
Spacious Venue with hardwood dance floor!
LOUD SOUND!!!!
7PM – LATE
100% FREE – For The Culture
Next Event
Date

June 29, 2023

- July 3, 2023

Time

4:00 PM - 11:00 AM