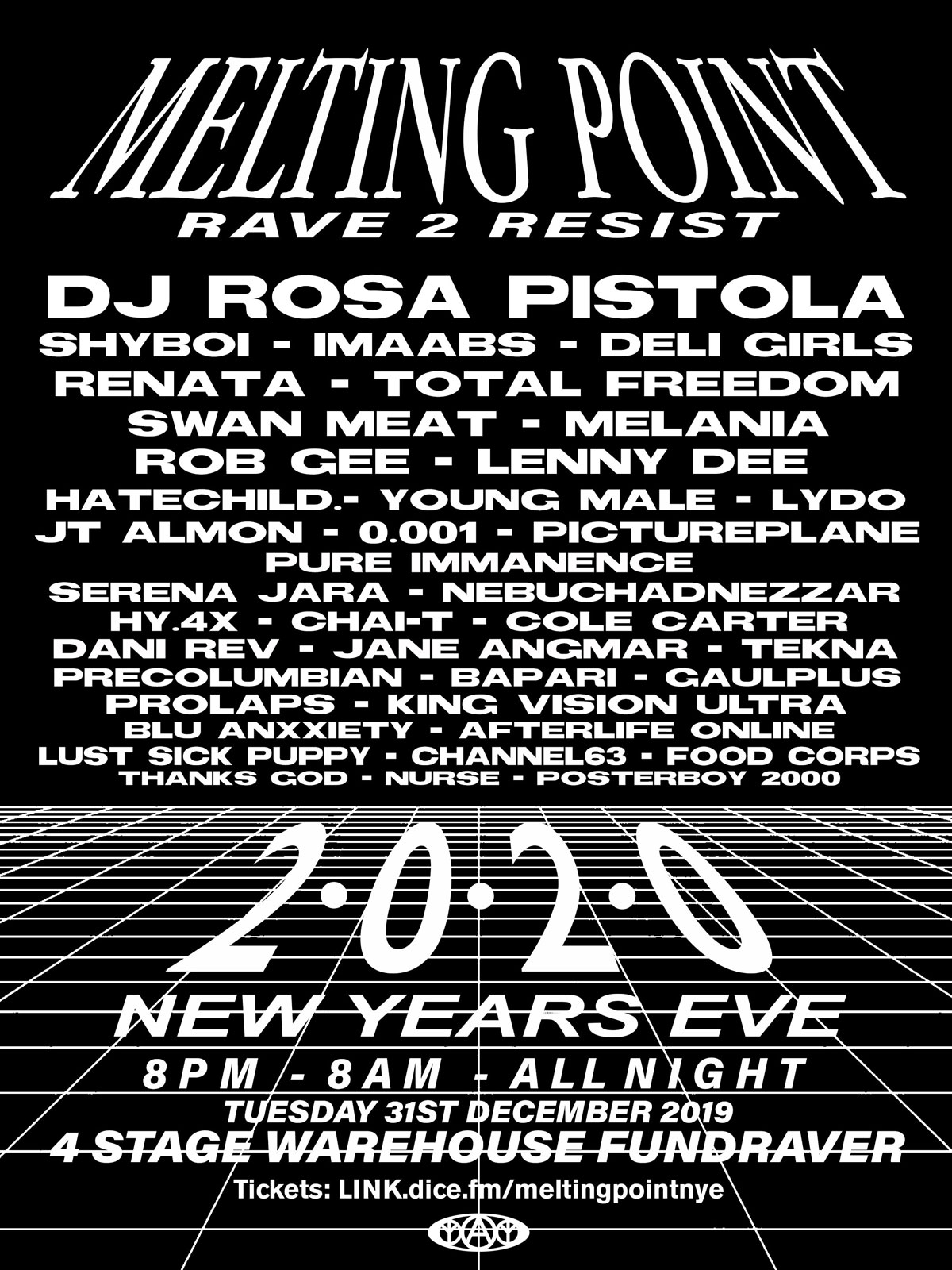 Melting Point NYE 2020 – 4 Stage Warehouse Fundraver
Melting Point NYC is bringing in 2020 with a multi-stage warehouse rave  in NYC. For 12 hours, the former industrial complex will be transformed into a fortress of sonic resistance and unity. The rave collective and immigration fundraiser has booked three stages of left-field Artists and DJ's from around the globe to take the new decade into uncharted territory.
---
LINEUP
DJ Rosa Pistola (CDMX, Mexico) // Shyboi // Imaabs (Santiago, Chile) // Renata (Beirut, Lebanon) // Melania . (Berlin, Germany) // Templər (Half of Imperial Black Unit) // Total // Freedom // Hatechild // Deli Girls // Young Male // Nebuchadnezzar // Rob Gee // Lenny Dee // Lydo // 0.001 // HY. 4X // Prolaps // Precolumbian // Serena Jara // Swan Meat // Bapari // Goodsafeperson // Gaulplus // Cole Carter // DANIREV // Tekna // CHAi-t // Afterlife Online // Lust Sick Puppy // Channel 63 // Food Corps // King Vision Ultra // Blu // Anxxiety // Hex.sys // Nurse // Posterboy 2000
---
International street artist and dark grunge savant VVXXII will be also transforming the warehouse with sculptural installations. Expect massive art pieces, chill areas, and club HI-FI quality sound systems.
Melting Point has raised over $22,000 for Al Otro Lado, a non-profit that provides legal aid to asylum seekers, migrants, and deportees throughout Latin America. In addition to AOL, on New Year's Eve, Melting Point will also be fundraising to improve Chilean protestor's safety and help the victims of ongoing police and state abuse in the country.
Chilean producer Imaabs is known for his ground breaking experimental club music and future oriented electronic landscapes. Also on this stage isTotal Freedom, club legend and genre smasher, Reggaeton DJ Powerhouse Rosa Pistola, Philadelphia's Precolumbian (Apocalipsis), Bapari, and Gaul Plus.
Our most brutal stage will be held down by NYC's hardcore legends Lenny Dee and Rob Gee. They will be joined by Melting Point Residents harshest resident, Hatechild along with Dani Rev, Serena Jara (Discwoman), Tekna, Swan Meat, Jane Angmar.
Renata, Tresor resident and head of Frequent Defekt Beirut, joins NYC favorite and dance floor hero Shyboi (Discwoman) on our Techno Stage. Melting Point veteran and Berlin based Melania (Aufnahme + Wiedergabe) brings deep mind-body releasing EBM to this zone. Also on this stage is multidisciplinary artist and On this stage, we also have DJ Lydo (X-TRA GEAR.SERVICES), a master of her own sound- a high speed, trance inducing take on techno. The other artists on this stage are DJ/Producer Young Male whose work seamlessly connects deep ambient to heavy techno, creating soundscapes with unparalleled depth and emotionality and Melting Point resident/co-founder Cole Carter who navigates the lines between hypnosis, inspiration, and devastation in his DJ sets.
The heart of Melting Point's community; The Mutants of Brooklyn are the creators of some of the most exciting and disturbing sounds out there right now. Chanel 63 and duo Deli Girls have created not just their own genres of electronic punk sound, but are also pillars of a vibrant, rule breaking live music community. They will be joined by live acts Polapse, a project comprised of one part Kill Altars, and another part Machine Girl, Afterlife Online, Nurse, Lust Sick Puppy, Not Amused, Food Corps, King Vision Ultra, and Blu Anxxiety.
Tickets available here:
http://link.dice.fm/meltingpointnye
Presented by Melting Point NYC & MeanRed Productions.
This is an 18+ event.