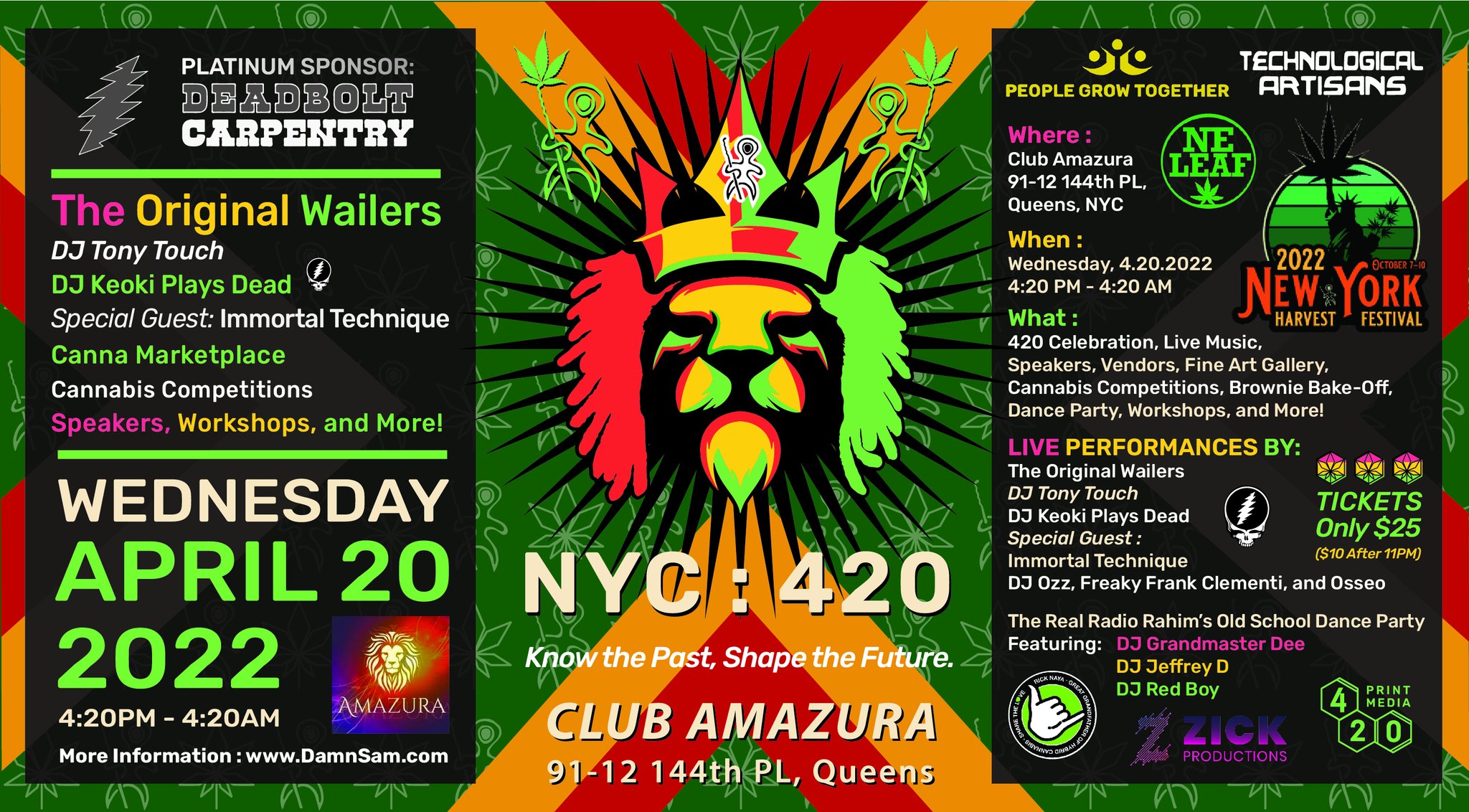 Harvest Festival Presents NYC's 4/20 Celebration ft Immortal Technique
Damn Sam & NY Harvest Festival & Freedom Fair Present:
A 4/20 celebration in NYC on April 20th, 2022 with IMMORTAL TECHNIQUE.
Going down at the legendary Amazura Night Club Queen, NY
Featuring:
Cannabis Culture Vendors – Genetics – Cannabis Competitions – Live Music (multi genre-bands & edm, hip hop, reggae) – Comedy Show – Multimedia – High End Sound, Lights & Lasers – Art Gallery – Live Art – Workshops – Speakers – Full Bar – Huge Outdoor Smoking Area – Amazing People – Irie Vibes – And So Much More!
Special Guest
IMMORTAL TECHNIQUE
When they say the revolution will not be televised, they didn't count on the return of the Peruvian born, Harlem representative Immortal Technique. With a legacy that's only grown in his absence, a loyal fanbase ravenous for his every word.
https://www.facebook.com/TechImmortal
The Original Wailers
In 1974 when Bob Marley went solo, on the brink of international stardom, he surprised the music community by choosing as American born lead guitarist, Al Anderson. It was Anderson's stunning lead work on such classics as No Woman, No Cry, & Three O'clock Road Block, that first alerted rock fans to the Wailer's music. Andersons' musical achievements with Bob Marley & The Wailers include the platinum award winning albums, 'Live at the Lyceum', 'Babylon by Bus' and ten times platinum album 'Legend'. The Orignal Wailers received their own Grammy nomination in 2013 for their album 'Miracle' making it Andersons' second Grammy Nomination. Al Anderson is the sole member of the Bob Marley & The Wailers mid – 1970's lineup in the Original Wailers. Al Anderson also backed Peter Tosh on the albums Legalize It and Equal Rights, plus so much more. The Original Wailers also include Chet Samuel (Lead Vocals / Guitar), Omar Lopez (Bass Guitar), Paapa Nyarkoh (Drums), and Adrian AK Cisneros (Keyboards and Organ) who continue the legacy of Bob Marley & The Wailers' music.
DJ Tony Touch
The Legacy Continues. Tony Touch A.K.A Tony Toca continues to be a force to be reckoned with. Tony Touch, an icon in Hip Hop and in the Urban Hispanic genre plus seasoned player in the game, is a true innovator and has revolutionized the DJ game over and over. From his legendary mix tapes to his skills on the 1's and 2's, he has become one of Hip Hop's most recognized DJ's. This C.E.O/Artist/Producer is now currently working on his 7th commercial release titled "The Piece Maker 3…Return of the 50 MC's" and is expected to make history once again.
Tony Touch Full Bio:
http://www.tonytouch.com/bio.html…
Superstar DJ Keoki Plays DEAD
The undisputed first and most legendary DJ of all time, the Superstar boasts a resume that other DJs can't even dream about. A visionary turns iconic pioneer, Keoki spearheaded the movement and spawned the growth of electronic music around the world!
https://ra.co/dj/keoki/biography
Now, The original Party Monster does something more DEAD. THE GRATEFUL DEAD to be exact! Super Star DJ Keoki Plays DEAD
Makeda Marley aka DJ Liv Luv
(Bob Marley's youngest daughter)
The Real Radio Rahim's Old School Dance Party featuring…
Grandmaster Dee, DJ Jeffrey D & DJ Red Boy, BongholeLeo, True Risen, Freaky Frank, Osseo, DJ Ozz and more!
Presented by our sponsors & friends at Dead Bolt Carpentry & Genetics (winners of NY Harvest Fest's 2021 Cannabis Cup with: Jerry Berry):
$10 tickets for after 11pm admission are also available!
The Original Wailers hit at 8pm
Speakers:
Dan Goldman – Marijuana Tomorrow Podcast – NY Cannabis Alliance
Dana Beal – Cures Not Wars – Founder Global Marijuana March
NYC Cannabis Competition:
There will be 10 judges that consist of celebrities and hand-picked connoisseurs by Damn Sam Pro.! Entries must be submitted on April 20, 2022 between 4:20pm-11:30pm at the Damn Sam booth! $100 PER ENTRY! Judging will commence within the following weeks. Judges will submit completed judge forms and Damn Sam will compile. Winners will be announced on Sunday May 1, 2022 on
www.damnsam.com
and other Damn Sam outlets. Some judges will be announced prior, some will be announced after the judging. Prizes will be awarded! All entries must submit 2 full oz's with as much information on each strain as possible.
Judge Forms will rate from 1-10 on:
Visual, Aroma, Taste, Vapor/Flush, Effect/High
We are also hosting our 1st Brownie (edibles) Competition! For entry details for the Brownie Competition, please contact:
Julie: jkgnest@gmail.com
TICKETS / LOCATION
April 20, 2022 4:20pm – 4:20am
This event is 18 and up – 21 to drink!
Tickets are $25 for the whole day/night and $10 for post 11pm entry.
Huge outdoor smoking area!
Happening at the LEGENDARY Amazura! A 3000+ Capacity Mega Club in Queens that has hosted a ton of raves in the past.
91-12 144th Place
Queens, NY 11435
NYC 4/20 Celebrations Sponsors:
*PLATINUM:
DeadBolt Carpentry & Genetics
*GOLD:
People Grow Together
*SILVER:
Catskill Mountain Kush
*GREEN:
Bud Bus
*PURPLE:
Burts Buds
*MEDIA:
Northeast Leaf
420 Print Media
*PROMOTION:
Jah Soldier NYC
DoNYC
*INDUSTRY:
Zick Pro
Urban Survivors Union
NY Cannabis Alliance
Cures Not Wars
NY Harvest Festival & Freedom Fair 2022 dates are:
Oct. 7-10, 2022
Next Event
Date

December 16 - 18, 2022

Time

All Day