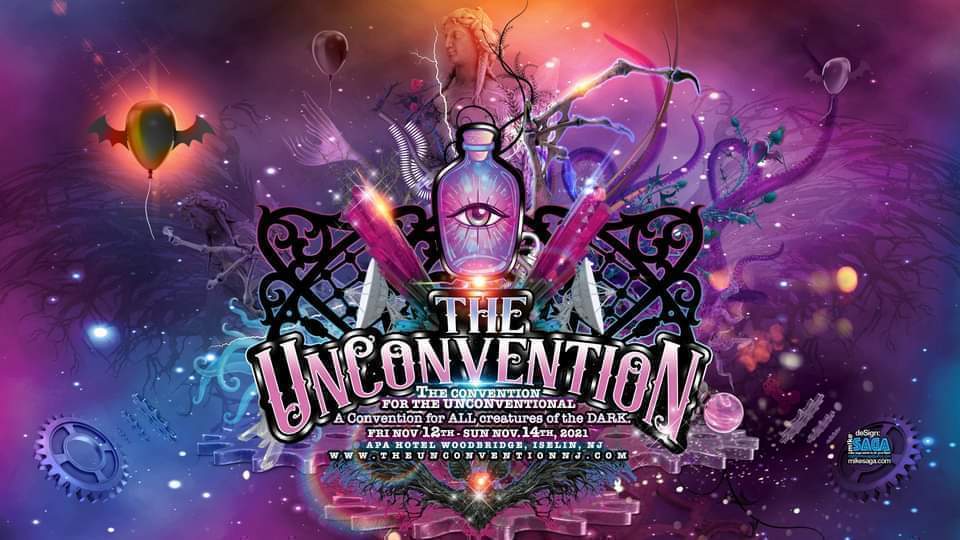 The UnConvention NJ 2021
New Jersey's Convention for the Unconventional! A magical place for music, performance, vending and most importantly, community!
FACEBOOK EVENT BUY TICKETS GET INVOLVED WEBSITE
NJ's own Convention for the Unconventional!
A convention for ALL creatures of the dark!
?❕? ::: f e a t u r i n g :: ?❕?
?\\ B A N D S \\ ?
THE GENITORTURERS
PRETTY HATE MACHINE
EGO LIKENESS
Interface
Abbey Death
ESA
Moris Blak
The God Bombs
Danny Blu
Pellagra
The Amatory Murder
The Destruct Principle.
Cut Like This
Tryst
Generation Empty
Raichyl Sinversa
?\\ D J S \\?
Erik Aengel (Endless Night, Necropolis)
mighty Mike Saga (Vortex Philly)
Annabel Evil (Cybertron)
Luna (QXTs, Twitch)
Angel Metro (VA)
Mykill Plague (QXTs)
Dzytort (Twitch)
Swabby (NYC)
?\\ B U R L E S Q U E \\?
Chloe D'Cay
Frankii Boom Boom
Bella La Blanc
Velvetica Neue
Stella Nova
Adrienne Trinity
?\\ P A N E L S \\ ?
Satanic Study Hall
Heather Oset (AutumnxNoir)
?\\ A L S O F E A T U R I N G \\?
The Unbirthday Ball & Costume Contest
[Dark Wonderland Themed Club Event]
….and 3+ more club events featuring QXTs and Vortex Philly.
60+ Vendors for all your unconventional needs, clothing, gifts, accessories, dreads, magical items, artwork, housewares and more!
Panels, Workshops, Lectures, Presentations, Stations, Concessions, Coffee, and more, Oh My!
?❕?AND SO MUCH MORE!!?❕?
?\\ H O T E L \\?
APA Hotel Woodbridge, Iselin, NJ
https://reservations.travelclick.com/96418?groupID=3188096
✒\\ A P P L I C A T I O N S \\✒
www.TheUnconventionNJ.com
☑\\ T I C K E T S \\☑
https://www.eventbrite.com/e/the-unconvention-tickets-120427631287
?\\ G R O U P \\?
public: www.facebook.com/groups/theunconventionnj/
private chat: https://www.facebook.com/groups/unconvention
?\\ L O C A T I O N \\?
Under a mile from Metropark Train Station, Iselin, NJ!
Exit 131 on the NJ Garden State Pkwy.
?\\ F O O D \\?
– There is a full Japanese restaurant and sake bar.
– A full American restaurant and regular bar.
– Additional bars and concessions.
– A starbucks branded coffee bar.
– Including vegan and GF options
❕\\ S P O N S O R S H I P S \\❕
Contact Chloe@TheUnconventionNJ.com
Next Event
Date

August 19 - 22, 2022

Time

All Day