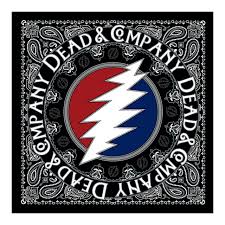 It has been four decades since the Grateful Dead began playing music, taking LSD and touring the United States and abroad. Rarely have they taken a break, although they have gone through several incarnations and numerous side projects together as well as individually. Their front-man, Jerry Garcia, passed away in 1995, but that has not stopped them nor their hordes of followers from continuing to make the rounds to some of the world's most distinguished arenas to fill them to capacity with music and love for days at a time in a way that no musical group has ever done since the inception of the modern music industry and likely never will.
When they got their start, it was a very different time; the cultural revolution of the 1960's had just begun, young people were tuning in, turning on and dropping out one after the other. They were also dropping acid, the psychedelic substance better known as LSD (lysergic acid diethylamide). Members of the Grateful Dead and their cohorts were no stranger to the powerful medicine. During the Kool-Aid Acid Tests, they ingested amounts of LSD which has often been mistakenly believed to create permanent psychosis or death. This experience has clearly influenced and shaped many aspects of the band's characteristics.
The music of the Grateful Dead can be called many things. It is Rock and Roll, It is funky, It is Rhythm and Blues, jazzy, spiritual, deep, melodic, romantic, uplifting and, when heard live through a serious sound system, can be one of the trippiest ear and mind fucks you have ever heard. Its die hard fans know all the words; they will sing along loud as they can and they often dance as if taken over by spirits at a tribal gathering meant to awaken the inner depth of one's being and expel the darkest demons.
The latest manifestation of the Dead is called Dead & Company. Its original members include Bob Weir, Mickey hart and Bill Kreutzmann alongside Jeff Chimenti, Oteil Burbridge and John Mayer.
Mayer as lead guitarist and vocalist has stirred up quite a controversy among the Deadhead population. Two things have happened; many older followers no longer go to shows and will only listen to original soundboard recordings of the band in its archetype form, and many young people now come to Dead shows who may have never even thought about it until Mayer joined the crew in 2015. Some say Mayer channels Garcia and is an exemplary musician in every rite, some say he has no business on the stage next to such accomplished performers. One thing is for sure, John Mayer knows the music and is obviously on a skill level high enough to be accepted into the fold by Bob Weir, a man who, at the age of 72, has probably clocked more hours performing on stage than just about any other acclaimed musician ever.
At every show the audience is doing what they are expected, singing along, dancing and tripping the night away to the music of the Grateful Dead. The sound is always loud and clear and the light shows and visuals are spectacular and psychedelic as ever. Even if you attend sober you will likely feel the energy emanating from the crowd and wonder if you have been dosed, although a true Deadhead would never do that.
Seriously, there is something to be said for Mayer's performance with the Dead. Him and Weir seem an unlikely partnership at first, but minutes into the opening song of any set, one can see and hear the chemistry in ways many bands who have toured for decades do not achieve. Whether you were a Mayer fan before or not, if you are a loyal Deadhead and have not abandoned them in this leg of the journey, you might even become one of those who agree that they sound better now than ever. That is not taking away from Garcia; it is a different time, audio and video technology has advanced and made shows sound clearer and visuals appear more stunning. The original members have become more attuned and sharp. And now, they no longer consume copious amounts of recreational substances and go on improvising for hours without end; the shows are fine tuned and have a beginning, a middle and an end. They make a lot of sense, yet still lend themselves to having an intense psychedelic experience.
And there is Drums in Space. That is the Dead's tradition of breaking into a long instrumental ambient and tribal improvisation which, at one time, would be fueled by large amounts of LSD and go on for hours. Over the years, Deadheads have looked forward to Drums in Space as a highlight; no two ever sound the same. It is still like that, although now it is basically the halftime show. For transplants from the Rave and EDM circuits it can be quite a treat as it is often layered with masterful African style percussion and loads of synthetic effects.
Then there is life outside of the shows. You may have heard Deadheads talk about Shakedown Street or Dead Lot, both one and the same. From the very early days of the band touring, when they were known as The Warlocks and were involved with The Merry Prankster and the Electric Kool-Aid Acid Tests, they had fans, friends and family traveling in tow. And as their popularity grew and small gigs became large concerts, more and more fans tagged along. Many continued touring with the band indefinitely, so much so that generations of Deadheads were born and raised on Lot.
Lot, or Shakedown, is where the vending takes place before, during and after the shows. In some cities it is officially sanctioned by the venue or the local authorities, often it is not. Sometimes, when the band plays in one location multiple days in a row, Lot can become an overnight campground where Deadheads sleep in their cars, vans, RVs or in the streets.
If you are unsure where to find Shakedown when you get to a show, do not ask in one of the Facebook groups, all they will tell you is to "poke around" and "be kind"
On Lot, one can purchase food and merchandise as well as make friends for life or become family. Much of the items found on Lot are handmade, some by fans, some officially licensed. There has been on ongoing debate over whether the band's imagery should be used by unlicensed vendors. Many do so without permission, some have actually gotten in trouble and had items confiscated and even been sent cease and desists notices from the Dead's legal team. One official item which is guaranteed to always be found on lot is grilled cheese sandwiches, a long-time staple among Heads. And no hippy gathering is complete without wire wrapped gems, hair wraps, tie dye, hat pins and ice cold fatties (balloons full of nitrous oxide).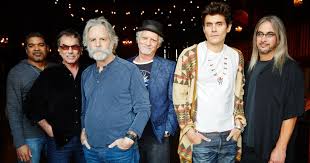 It does not seem to be ending any time soon, if anything, Dead & Co. has taken on a life of its own and has a following as strong as the Grateful Dead's ever was. As it stands, the Dead has the most official cover bands out of every famous band in the music industry. And some of their cover bands, like Dark Star Orchestra, have fairly strong followings on their own. Either way, if you have been following the Dead since the Sixties or decided to come check out a show because you were a fan of John Mayer and now know all the lyrics to every song, welcome and enjoy the ride.