Halloween weekend Dead & Company performed two sold out nights at Madison Square Garden in New York City. The general consensus, according to social media, is that the shows were spectacular and unforgettable. New York City shows are particularly interesting for Deadheads. At one time, Shakedown happened around the perimeters of the Garden along the sidewalks, and Lot was the top floor of the parking garage across the street on the south side. In recent years, that is no longer the case. Heads roam the local streets huffing nitrous balloons, making their way home, to hotel rooms, looking for bars playing Grateful Dead tunes, and many sleep in their vehicles resting up to make their way to the next venue.
Of course, some of the local bars take full advantage of the opportunity to attract the Heads by having a dedicated night of music and drink specials. Some may even book a cover band. What one venue did this year has set the bar quite high for any future after parties for Dead & Co. shows.
This year, Relix Magazine hosted the Jerry Dance Party at Zerospace just around the corner from the Garden.
Just like the shows, the after party was sold out both nights. And for the first time, Deadheads could be seen looking for a miracle to get a ticket for the after party, much like you would see outside any Dead show at a major concert venue. There is a good reason for all the hype about the after party.
Zerospace is a Deadhead's wet dream. Founded, designed and built by Burners, it is a twenty five thousand square foot fully immersive, interactive, super-high-tech psychedelic playground.
The space is advertised as a museum with daytime hours for people of all ages. It has a bar which, along with alcoholic beverages, carries a menu of elixirs developed by Elixirology. The drinks are served in reusable cups which customers are encouraged to hold on to and return to the bar for their next drink, and the straws are compostable.
If Jerry Dance Party was your first time seeing this space, then it may have been the perfect scenario to witness its wonderfully magical installations in action. The place is not only psychedelic on its own, it was booked to capacity with happy, smiling, glowing Deadheads in their colorful hippy attire.
Once inside and past the bar, you must traverse a long labyrinth like passage which looked and felt like the jet bridge to the Starship Enterprise. This passage spilled into a large black room where the first interactive installation is a large sandbox with a projection of liquid colored lights which, when one runs their hands through the sand, changes patterns along with the movements.
There is a large room set up as a lounge, with another bar, that has a projection mapped onto the far wall which is vibrant and stunning to say the least. For those taking in the sights on psychedelic substances, it will be more impressive than any 3D iMax film.
Beyond that is a psychedelic dancefloor which clearly had the Deadheads' approval. The digital projection on the floor is designed to mimic the psychedelic oil lamps of the 1960s, only the patterns move as you shimmy your way around to the music.
There is a hallway with several digital installations made to appear like a hall of mirrors in a carnival funhouse. These are no ordinary funny shaped mirrors, they are screens which capture your movements to control digital animations with special effects.
There are a few rooms with super sharp lasers and LED light shows which go on for hours and never seem to repeat a pattern. In at least two of these rooms there are very comfy bean bags so that you can make yourself at home to relax and enjoy the spectacle.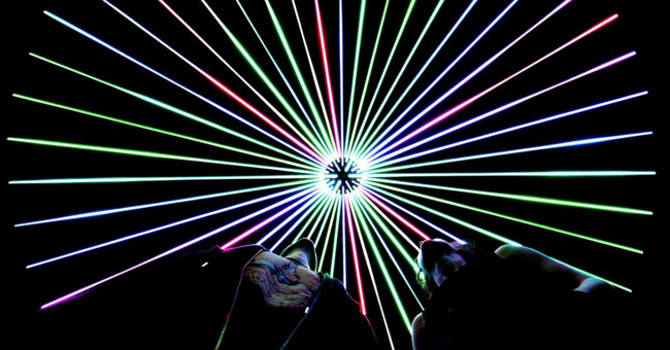 It is impossible to do Zerospace justice in writing, and although it has been reported on the news and one can see videos on their website, the only way to truly appreciate it is up close and personal. Treat yourself and a group of your favorite tripping partners to a night out in midtown Manhattan making Zerospace a highlight of the night. They have an immersive interactive theatrical performance which will be sure to tickle your aural and ocular senses as well as spark your imagination like no light show or play has before.