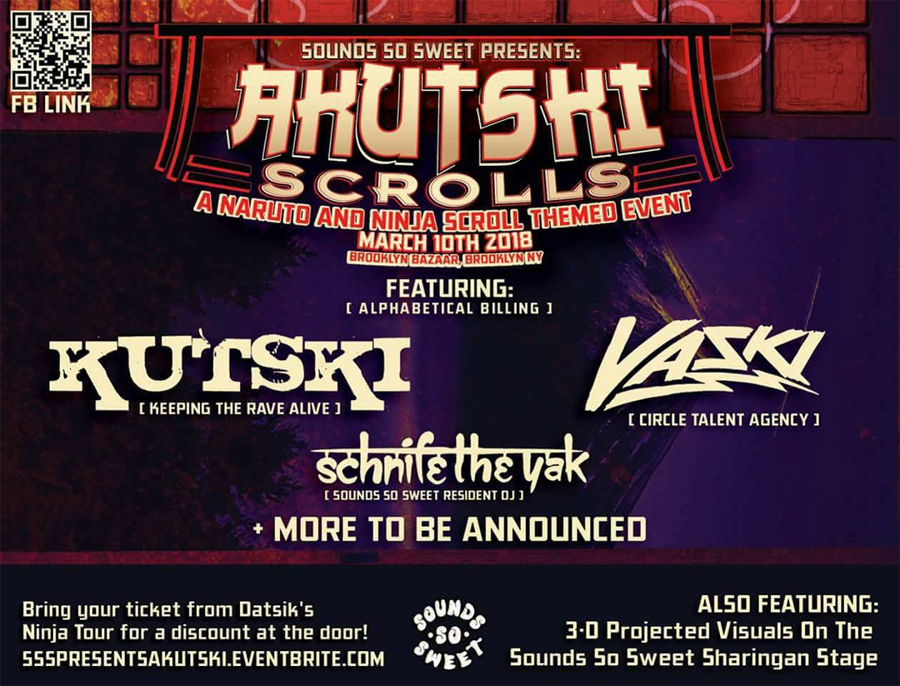 Akutski Scrolls : Ft DJ Kutski
Join Sounds So Sweet March 10th in Brooklyn as they unlock the Akutski Scrolls with DJ Kutski : A Naruto Themed Event.
[ N I N J U T S U ]
The Kouga and Iga Clan have been waging wars of feast and famine for centuries as generations battle to decide the fate of their village. Today a new pure darkness enters the field as the Akatsuki takes aim to overthrow & conquer the chaos engulfed lands. To fight this new evil the hidden Ninja Scrolls of the Elder village must be found and learned
[ T A I J U T S U ]
For us Nin, the war is on the dancefloor and the moves you make will determine life or death. Hone your skills in the physical realm to keep up with your foe in battle
[ G E N J U T S U ]
Prepare For Mind Melting Visuals That Test The Mind & Soul With Our 3-D Projection Mapped Battlefield
Don't be fooled by any cheap imitations or a clones you think you have been seeing, the real party is just about to begin.
F E A T U R I N G :
DJ Kutski
[ U K ] – [ 360 DEGREES OF THE HARDER STYLES ]
(Keeping The Rave Alive)
It's very rare in this day and age to find pioneers who work hard day in day out to constantly push the boundaries of harder music. The true saviour of rave and master of the harder styles, Kutski aptly fits this title and is without a doubt the most exciting crossover talent to emerge from the UK in the past decade!
With his infamous technical ability and incredible musical versatility it's not difficult to see why he has earned the tag 'The People's Favourite', voted the UK's No.1 Hard Dance DJ in the DJ Mag Top 100 DJs poll and scooping up awards for 'Best UK Hard DJ' for 3 years running in the Hard Dance Awards as well as best Hard Dance DJ and podcast/radio show in the Hardcore Heaven Awards.
http://www.djkutski.com/ / facebook.com/djkutski/ / soundcloud.com/dj-kutski
Vaski
[ M N ] – [ Bass Music ]
( Disciple , Smog ]
facebook.com/vaskimusic/ / soundcloud.com/vaski
Schnife The Yak
[ NYC ] – [ HARD DANCE / BASS ]
(Sounds So Sweet)
MORE TBA