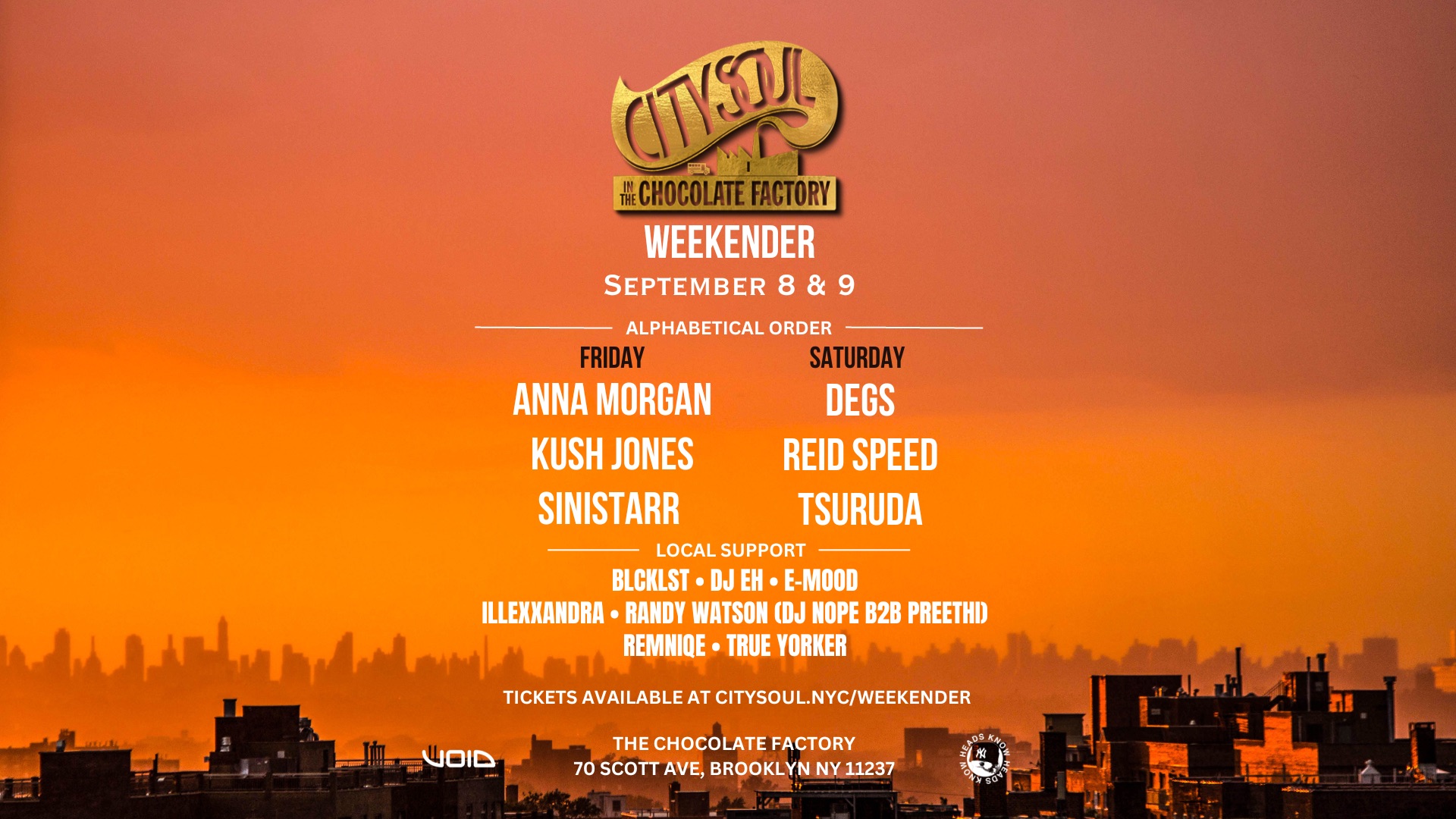 City Soul : Bass Weekender
Friday September 8th and Saturday September 9th is the first annual City Soul in the Chocolate Factory: Bass Weekender in Brooklyn!
Here, lovers of DnB, jungle, footwork, UK grime, dubstep and trap are united as one. The refuge for ravers looking to experience an energy unlike any other. The dance floor where strangers become family. The home for headbangers. Get ready for two jam packed days of face melting bass and sounds from the underground.
🔥 LINE UP 🔥
Friday, Sept 8th
Anna Morgan
Kush Jones
Sinistarr
DJ eh
Randy Watson
Saturday, Sept 9th
Tsuruda
Reid Speed
Degs
DJ Nope
True Yorker
BLCKLST
Remniqe
Illexxandra
E-Mood
🔥 LOCATION 🔥
The Chocolate Factory boasts 6,500 sq feet + a VIP balcony that overlooks the entire party from a bird's eye view. The 20′ ceilings allow us to drive the iconic City Soul bus indoors to act as the stage for all our DJs.
Address: 70 Scott Ave. Brooklyn, NY 11237
🔥 SOUND SYSTEM 🔥
Void Acoustics is known globally for their sonic and visual innovation. At The Chocolate Factory, you can find:
– Five Stasys Xairs: Known to be the king among subwoofers.
– Two Air Motions: Compromised of three transducers, each loaded by an isometric conical horn that delivers exceptionally balanced waveform transmission with greater definition.
– Two Arcline 8: Operating as a two-way active, three-way line array module system, these stacks deliver unprecedented, consistent levels of sonic fidelity.
In short, this sound system will deliver the bass frequencies directly into your soul.
🔥 VISUALS 🔥
What's a party without an unforgettable aesthetic? Projection mapping turns our static warehouse walls into a living, breathing space by adding extra dimensions and optical illusions.
Friday: VJ Krunch
Saturday: Bella Juliana
🔥 TICKETS 🔥
Tickets can be found here
Single Day Ticket (Tier 1) $35
* GA admission to either Friday -or- Saturday
Weekender Ticket (Tier 1) $60
* GA admission to both Friday and Saturday
Single Day VIP Ticket (Tier 1) $169.95
* VIP admission to either Friday -or- Saturday
* Includes special VIP access to balcony + private bar and 1 commemorative chocolate bar
🔥 OPEN TO CLOSE 🔥
Friday, Sept 8th
9:30 PM-4 AM
Saturday, Sept 9th
5:30 PM-4 AM
🔥 INFO & FAQ 🔥
21+ | No Refunds
🔥 WHO IS CITY SOUL 🔥
City Soul is an artist collective embodying diversity, inclusion, and equality by bringing music and dance directly to the people on the streets of NYC via a decked out short school bus. Started in 2020 as a grassroots passion project, City Soul has grown into a respected and beloved community force — showcasing the talents of dozens of local DJs and performers, and partnering with established names in NYC nightlife, like Elsewhere, Soul in the Horn, SILO, Jupiter Disco, and House of Yes. Weekly street parties occur every Saturday through the warmer months and are supplemented by larger-scale ticketed events. We recently partnered with The Lot Radio to host Skrillex, Fred again.. and Four Tet for a B3B pop-up set in Times Square. Other major artists we have worked with include BLOND:ISH, Hatiras, Sebb Junior, Karmina Dai, and Soul Summit.
Next Event
Date

September 22 - 24, 2023