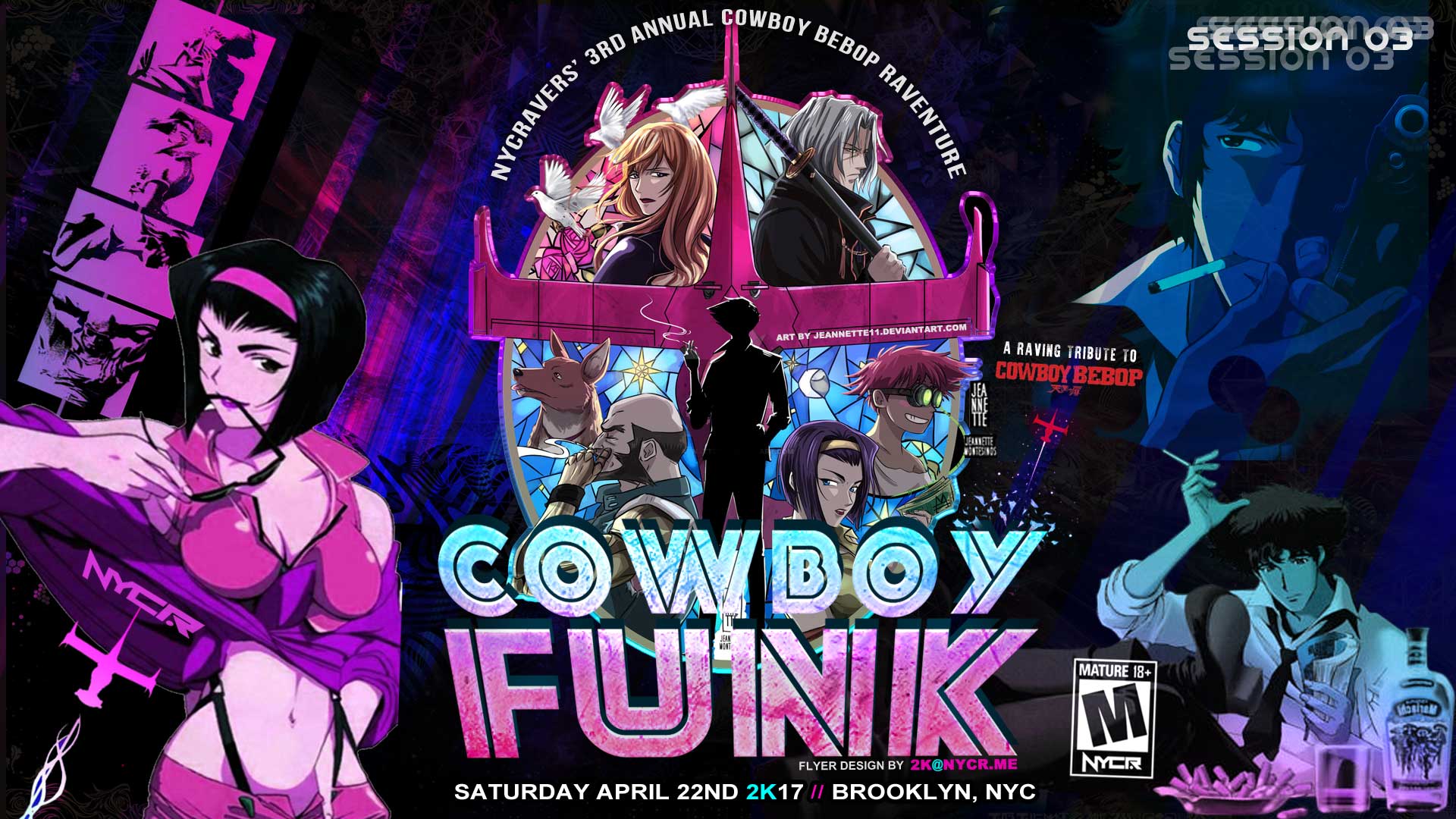 Cowboy Funk
A Cowboy Bebop Ravexperience
3… 2… 1… LETS RAVE!
Get Ready to Hunt down some badass space pirates once more with NYCRavers as we pay homage to an anime that redefined the genre as an indisputable art form… COWBOY BEBOP. Once again this will feature a HARD hitting multi genre rave lineup spanning the entire EDM universe of sound with SuperStar DJ SPREE manning the helm along with top quality projection mapping by SoundsSoSweet, Lycra Installations, crazy costumes and most of all those Great Space Cowboy Vibes! This 18+ rave will be going down at a To Be Disclosed Secret NYC location!
[divider]█▓ BOUNTY HUNTERS ▓█[/divider]
The ""The Midwest Originator"
DJ SPREE
(RaversOnly, MN) *HAPPY HARDCORE* || SPREEANDADB.com
[toggler title="READ BIO"]Spree has been one of the top High-Energy Dance providers in North America since 1997. He's painted smiles across the faces of thousands of kids as a headliner in just about every major US and Canadian city in that time. Spree has put out dozens studio mixed compilations in the past, ranging from 1994/95 style breakbeat/piano filled hardcore to the latest up to date anthems. All of these mixes are available online for free download. Spree records almost every one of his live sets via a portable mini-disc recorder. As long as the set records properly, it will be placed on-line in mp3 format for free download.
After such an amazing performance last year at Heartless we decided we needed to bring this awesome mofo back to NYC. The universe agreed as it is also his birthday bychance. Check out his sets from last year over at our soundcloud www.soundcloud.com/nycravers/[/toggler]
Plus a Second Bonus Set As His Burner Alter Ego….
PAUL KNOX
(RaversOnly, MN)SOUNDCLOUD
For the first time in over 4 years….
 CANDYKID vs STARKISS
(RaversOnly, NY/PA) *HAPPY HARDCORE*
MICHAEL PHASEAka DROID
(Hard With Style, NY) *HARDSTYLE* SOUNDCLOUD
DJ INTEGRITY
(NYCRavers // Hardmind Productions , N)) *PSYTRANCE* || SOUNDCLOUD
ANNAKICKARSE
*MULTI GENRE*
[divider]█▓ BONUS FEATURES ▓█[/divider]
• Cowboy Bebop Projection Mapped Visuals by SoundsSoSweet
• Lycra and Art Installations by NYCR Eyecandy
• Free Fresh Fruit By JIMMY GIDWILL
[divider]█▓ TICKETS ▓█[/divider]
18+ Event
$10 / $15 / $20 PRESALES
Get Tickets @ www.nycravers.ticketleap.com/ballad
Our Last Event SOLD OUT before doors we're going for another! The NYC Rave scene is back motherf*ckers.

[divider]▒▓█ Costume Inspirations █▓▒[/divider]
Futuristic Bounty Hunter, Cyborg, Space Gangster, Faye Valentine, Clown Assassin, Inter-dimensional Time Travelers, Sam Black, Cowboys/Cowgirls
(COME IN COSTUME!)
Check Out Some of the Past Bebop Sessions by NYCR:
4/22/2016 Gateway Shuffle
Event Page (For Raviews)  .. Videos by Cookie + Mark Law
3/21/2015 See You Space Cowboy
Event Page (For Raviews)// Urban Adventures' Pictures //  See-Bass Photography's Pictures
"I'm just watching a dream I never wake up from." – Spike
Next Event
Date

July 21 - 24, 2022

Time

9:00 AM - 6:00 PM