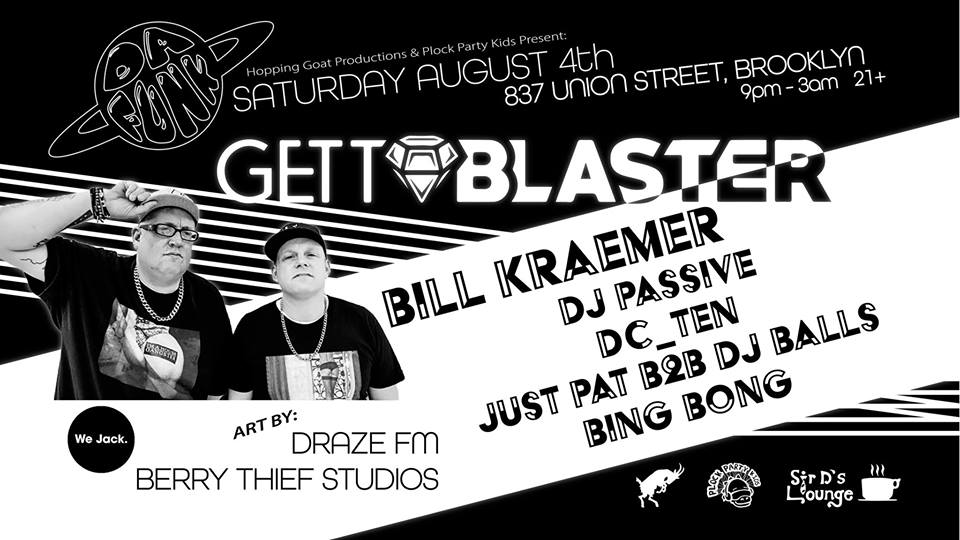 DaFunk! Ft Gettoblaster
DaFunk is in full effect! On Saturday August 4th we have Chicago's House and Techno Duo Gettoblaster making the NYC stop on their We Jack tour! This 21+ DaFunk Event is going down at Sir D's Lounge in Brooklyn.
This event has Limited number of tickets so get yours today!
██ DJS ██
<< Gettoblaster >>
Chicago
We Jack
www.facebook.com/gettoblaster
www.facebook.com/wejacktechno
www.soundcloud.com/gettoblaster
www.twitter.com/iheartgetto
Heavily influenced by the sound that has ruled the Chicago & Detroit underground scenes, but also looking to the future of house & techno, Gettoblaster has been receiving a lot of attention lately for their unique take on Ghetto House. Their multi¬faceted approach to an increasingly demanding industry illustrates their ability to evolve and succeed in the international dance scene.
Gettoblaster has experienced success at an alarming rate, including having tracks played and charted by some of the industries' biggest taste¬makers and boasting over 10 Top 100 tracks in less than 18 months on various Beatport Charts, and spreading their wings globally with artists from more than 20 different countries supporting their music. "Diamonds & Palm Trees" is currently in heavy rotation in the underground scene, catapulting to the top of Beatports' House releases by coming in at number 7.
<< Bill Kraemer >>
Florida
The Seed , OG
I'm Bill Kraemer and I have been a DJ and Producer since roughly the end of New Wave in the late 1980's. It's a long time, and during that period I have done quite a bit, a lot of it really fun and cool. It's been awesome, and a fantastic ride that I will keep on riding along forever. I am as some would say, "A Lifer" one of those old dudes you see up on the decks that people whisper about that's been around since mud and will rain Techno fire down on any dance floor. As a DJ I have been able to perform at such superclubs as NY's Limelight and Tunnel, to the legendary Boston afterhours, The Loft. As well as being the main dude, and the guy who got the spot for the mighty Rave in the Cave of NY legend. Outside NY my career has taken me to countless places from the canyons and deserts of Arizona to huge Canadian warehouse parties and everyplace in between. I've played in barns and on rooftops, in giant spaces and a tight tiny depression era speakeasy, and underneath the Bronx River Parkway, and I'm not done yet.
Besides just being a DJ,as a producer I have a wild number of Techno tracks over the years on over a dozen labels and I keep growing my profile there as well signing bigger deals all the time. I have done some other stuff too, from being one of the founders of the Satellite organization that went on to such great things, to countless Rave and club parties, DJ events, a couple of record labels, consulted on a film project, music consultant for a fashion show at Fashion Week a couple times, A&R, and more. It really does get quite ridiculous when I start to type it all out, because this isn't what I do all this for. I really just like Techno, House, Acid, making and playing that shit people, and making people dance, that's it.
<<DJ PASSIVE>>
NYC
Smooth and Groove Records
https://www.facebook.com/djpassive1/
<< DC_TEN >>
NYC
Chemical Warfare Underground / Infekted Skillz
www.facebook.com/djdcten
http://soundcloud.com/dc_ten-1
http://www.mixcloud.com/DC-10/
<< JUST PAT B2B DJ BALLS >>
NY, NJ
Just Pat inc, Hopping Goat Productions
https://www.facebook.com/pg/JUSTPATNY
https://soundcloud.com/dj-balls-1/
https://www.facebook.com/DjBallsNYCR/
<< BING BONG >>
A Queen Aminah b2b Plockasaurus
NYC
Plock Party Kids, Hopping Goat Productions
https://www.facebook.com/Plockasaurusmusic/
https://soundcloud.com/plockasaurus
https://www.mixcloud.com/Plockasaurus/
https://soundcloud.com/imean-ah
https://www.aqueenbyaminah.com
______________________________________
██ ARTISTS ██
<<DRAZE FM>>
NYC
https://www.facebook.com/August25th1981
https://www.instagram.com/sloppy_and_choppy/
<<BERRY THIEF STUDIOS>>
NYC
https://www.instagram.com/berrythiefstudios/
https://www.facebook.com/berrythief/
Flyer design by Aly Sun
______________________________________
██ TICKETS ██
$10 Early Bird Tickets and then
$15 Presale Tickets
This is a 21+ Event.
______________________________________
██ LOCATION ██
Sir D's Lounge
837 union st
Brooklyn, New York 11215
______________________________________
Don't miss our September DaFunk! Feat. DJ Dan, Just Pat & Bob Evil !