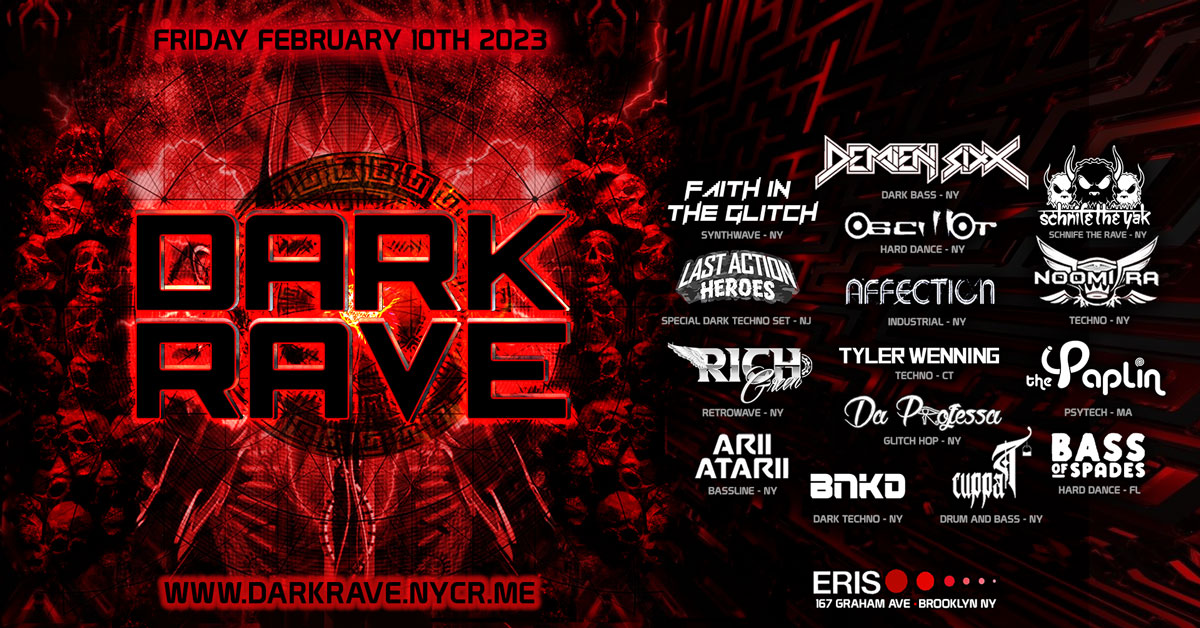 Dark Rave : Valentines Day Edition
On February 10th, 2023 in Brooklyn a musical combination of darkness and color become one at this 3 stage fusion of NYC's goth/industrial and rave scenes. Experience something unique as we take you on a genre-traversing journey of sound across 3 stages of Funktion-one sound. This LIMITED CAPACITY 19+ event is only $5-10 (if you grab presale tickets) so get yours today to ensure your place inside the DARKNESS.
Club Nihil & 2k Present
D̠̪̟A̝̺R͎͔͎K̞̻̝ R͓̝͇A̘͉̼V̪͖͙E̙͍͉
▌LINEUP▐
🎶 BASEMENT 🎶
Techno / House / Psytech
> Demien Sixx <
(DSixx Recs / NYCRavers, NJ) *Dark Bass*
Demien Sixx's unique fusion of Dubstep, Electro House and Trap is what sculpts his trademark sound, consisting of drum-machine like sounds, tight rhythm sections and walls of bass, surrounded by lush synth melodies and uplifting hooks. His tracks are all about engaging the crowd and liberating high amounts of energy, whether you are enjoying them via the intimacy of your headphones or being thumped in the chest by a state of the art PA system in a club.
> Schnife the Yak < (Sounds so Sweet, NY) *Schnife the Rave*
> Bass of Spades < (Audiophiles, FL) *Hard Dance*
> Da Professa < *Glitch Hop*
> CuppaT < *Drum and Bass*
🎶 UPSTAIRS 🎶
Industrial / Psytech / Synthwave
> Last Action Heros < (BP2, NJ) *Special Hard Techno Set*
> Oscillot < (NYCRavers, NY) *Multi Genre*
> Noomi Ra < (Digital Distortion, NY) *Techno*
> Arii Atarii < (Atarii Empire, NY) *House*
> The Paplin < (Fractaltribe, MA) *Psytech*
> Tyler Wenning < (SE7ENS DIGITAL, CT) *Techno*
🎶 LOUNGE 🎶
Industrial / Synthwave / Retrowave / Dark Techno *EXTENDED SETS*
> Faith in the Glitch < *Synthwave*
> Rich Green < *Synthwave/Retrowave*
> Affection < (Eris, NY) *Industrial*
> BKND < *Dark Techno*
▌FEATURES ▐
─ 3 rooms of Funktion One Sound!
─ Burlesque Performances
─ Live Painting by www.instagram.com/valr4vn
─ LED Art Installation by www.instagram.com/Aery2k
─ Vending by Venus Pearl Alers
─ UV face/bodypainting and Art Vending by Lunaeric Creations
Want to get involved ? Comment in the event discussion!
▌LOCATION▐
Eris
167 Graham Ave
Brooklyn, NY
Nearest Subway: L Train Montrose Ave Station (2 blocks)
▌TICKETS▐
19+ event
$5 / $10 / $15 Presale Tickets
$15 @ Door for 21+, $20 @ Door for 19+
Buying tickets = Guaranteed Entry, this event may sell out!
▌ABOUT▐
Every 2nd Friday of the month Club Nihil will be teaming up with Veteran Rave promoter Aeryk 2k fusing the best elements of NYC's goth/industrial and rave scenes.
▌UPCOMING▐
3/10, 4/14, 5/12, 6/9, 7/14
"Walking with a friend in the dark is better than walking alone in the light."
— Helen Keller See less