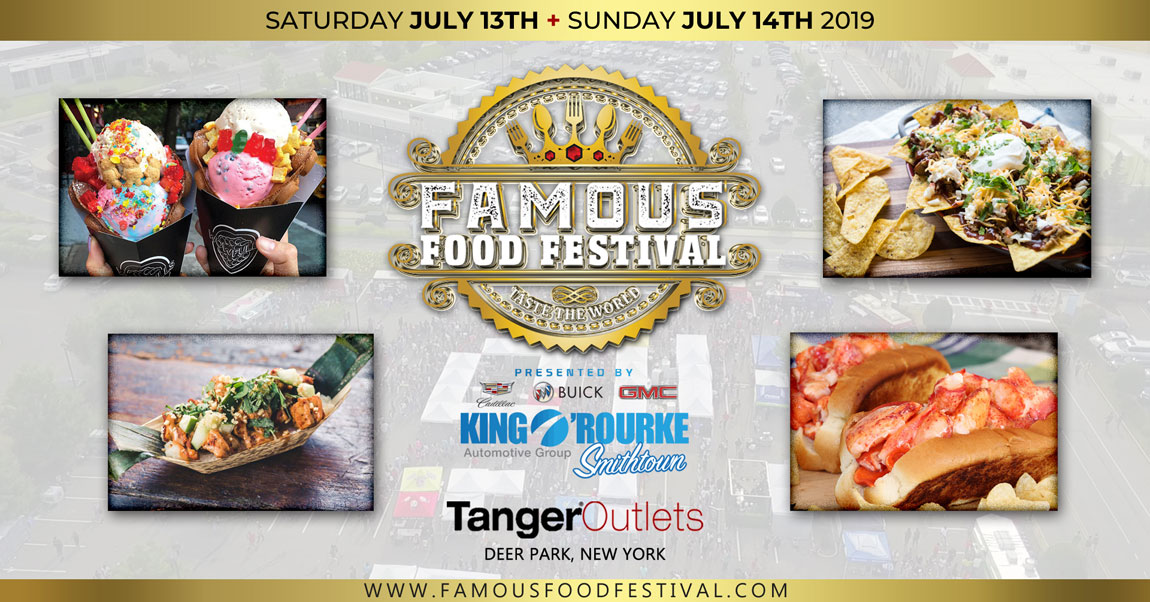 Famous Food Festival – July 2019
This year's Famous Food Festival is Presented by King O'Rourke Buick GMC
On Saturday, July 13th and Sunday, July 14th, 2019, Famous Food Festival is BACK and BIGGER THAN EVER with lots of NEW additions this year!
Featuring Over 65 Food Vendors, New VIP Section, Live Music, Beer and Wine Garden, Virtual Reality Gaming Area, Zip Line, Rock Wall, Chef Demo's, Free Sampling*, Sport Simulator, Butterfly Exhibit, VIP Area, Art Tent, Cooling Stations, and much more!
This all-ages fun for the whole family event is only $5 to attend each day! Children 10 and under are FREE.
Taking Place at the Tanger Outlets in Deer Park, NY. (Southeast Parking Lot, opposite Regal)
Tickets are selling really fast. Guarantee yours today! https://famousfoodfestival2019.eventbrite.com/
*Limited availability
▄▄▄▄▄▄▄▄▄▄▄▄▄▄▄▄▄▄▄▄▄▄▄▄
▇ VENDORS ▇
PHASE 1 VENDOR ANNOUNCEMENT (Loads more coming)
Updated 5/1/19
AJ's Grilled Cheese Shop
All American Wontons
Anda Cafe
Athletic Brewing Co
Bang Cookies
Bona Bona Ice Cream
Build a Sandwich
Burmese Bites LLC
CBao Asian Buns and Bubble Tea
Caribbean Street Eats
Come Fry with Me
Cousins Maine Lobster
Crazy Crepe Cafe
D'Abruzzo NYC
Empanada Papa
Farm to Truck
In Patella
John's Juice
Katies Mac Daddy n Cheese Truck
Knot of this World Pretzels
Kona Ice of LI
La'Maoli
Little Porky's Marinade
Mac Truck NYC
Maracas Southwest Grill, Inc.
MELTology Grilled Cheese
Memphis Seoul LLC
Nachos Libre
Popeis Clam Bar
Right Coast Taqueria
Rolling Smoke Inc.
Sams Fried Ice Cream
T's Chicken and Fish
That Meetball Place
The Halal Guys
The Perfect Pickle
The Sausage Kings Mobile
Toum Food Truck
Twisted Potato
Uncle Jimmy's Cheesecakes
Vaccaro's Bakery NYC
Wowfulls
Yankee Doodle Dandy, Inc.
▄▄▄▄▄▄▄▄▄▄▄▄▄▄▄▄▄▄▄▄▄▄▄▄
▇ SPECIAL FEATURES ▇
+ Over 60 Exclusive Food Vendors
+ Live Music / Performance Stage
+ Chef Demonstrations
+ Incredible VIP Lounge
+ Beer and Wine Garden
+ Virtual Reality Gaming Area
+ Red Carpet Photo Booths
+ Aerial Trapeze Yoga
+ Contests and Games
+ Butterfly Exhibit
+ Golf Simulator
+ Kids Section
+ Cooling Stations
Lots of More Features TBA
▄▄▄▄▄▄▄▄▄▄▄▄▄▄▄▄▄▄▄▄▄▄▄▄
▇ SPONSORS ▇
This Year's Presenting Sponsor is King O'Rourke Buick GMC : Visit their website at https://www.famousfoodfestival.com/kor
Columbia Care NY
Essentia Water
HP Hood
Hubert's Lemonade
KeVita
LeafFilter Gutter Protection
Long Island Nets
NEFCU
Newsday
NY Life Insurance
Nys lottery
Power Home Remodeling
Renewal by Andersen of Long Island
Sleep Number
SUNation Solar Systems
Wild Bill's Soda Pop Co. – Tennessee
Verizon FiOS1 – Long Island
ZICO Coconut Water
▄▄▄▄▄▄▄▄▄▄▄▄▄▄▄▄▄▄▄▄▄▄▄▄
▇ PARTNERS ▇
Tanger Outlets • Connoisseur Media Long Island • 94.3 The SHARK • WALK 97.5 • 103.1 MAX FM • K-98.3 • The Grindhouse Radio • LongIsland.com • News 12 Long Island • WHLI • Eventbrite • East End Taste • NY Party Works • Virtual Realms • Simplay NY • Pop Up Prana Yoga • Colored Colors • Island Exclusive • Discover Long Island • Plus 3x Chopped Champion Chef Marc Anthony Bynum!
▄▄▄▄▄▄▄▄▄▄▄▄▄▄▄▄▄▄▄▄▄▄▄▄
▇ ABOUT THE FAMOUS FOOD FESTIVAL ▇
Can you think of a more enticing expression of culture than food? Welcome to the ultimate culmination of Culinary Arts in the Food Festival Industry! Our Community Food Festival event production company consciously focuses on creating a distinctive food festival experience through delivering the opportunity to taste the world and blend together all of the most delectable and flavorsome ingredients stemming from a myriad of different cultures and food.
▄▄▄▄▄▄▄▄▄▄▄▄▄▄▄▄▄▄▄▄▄▄▄▄
▇ LOCATION ▇
Tanger Outlets, Deer Park
(In the SouthEast Parking Lot)
152 The Arches Cir
Deer Park, New York 11729
www.tangeroutlet.com/deerpark/
▄▄▄▄▄▄▄▄▄▄▄▄▄▄▄▄▄▄▄▄▄▄▄▄
▇ TICKETS ▇
This is an All Ages Family Friendly Experience, children under 10 get in for free!
Online Tickets are $5 for One Day, $9 for Both Days @
https://FamousFoodFestival2019.eventbrite.com
Tickets will be available for $8 at the door.
▄▄▄▄▄▄▄▄▄▄▄▄▄▄▄▄▄▄▄▄▄▄▄▄
▇ GETTING THERE ▇
++ Public Transit ++
Tanger Outlets, Deer Park is conveniently located a short distance from the Deer Park LIRR Train Station. Purchase the Tanger Deer Park package at open ticket offices and ticket machines (gray or blue). The package includes rail fare to Deer Park station, where you can board the Tanger Outlet Shuttle for a short ride to the center.
Visit http://mta.info/lirr/getaways/LongIsland/TangerDeerPark.htm for package and train information
++ Driving ++
For driving directions visit https://goo.gl/VYfWpD
▄▄▄▄▄▄▄▄▄▄▄▄▄▄▄▄▄▄▄▄▄▄▄▄
▇ OFFICIAL FAMOUS LINKS ▇
Website : www.FamousFoodFestival.com
Facebook : www.facebook.com/famousfoodfestival/
Instagram : www.instagram.com/famousfoodfestival/
Vending Info : www.famousfoodfestival.com/vendor/#beavendor
Sponsor Info :: www.famousfoodfestival.com/sponsors/#beasponsor
▄▄▄▄▄▄▄▄▄▄▄▄▄▄▄▄▄▄▄▄▄▄▄▄
▇ OTHER 2019 DATES ▇
August 17th + 18th at Tanger Outlets, Riverhead
October 12th + 13th at Tanger Outlets, Deer Park