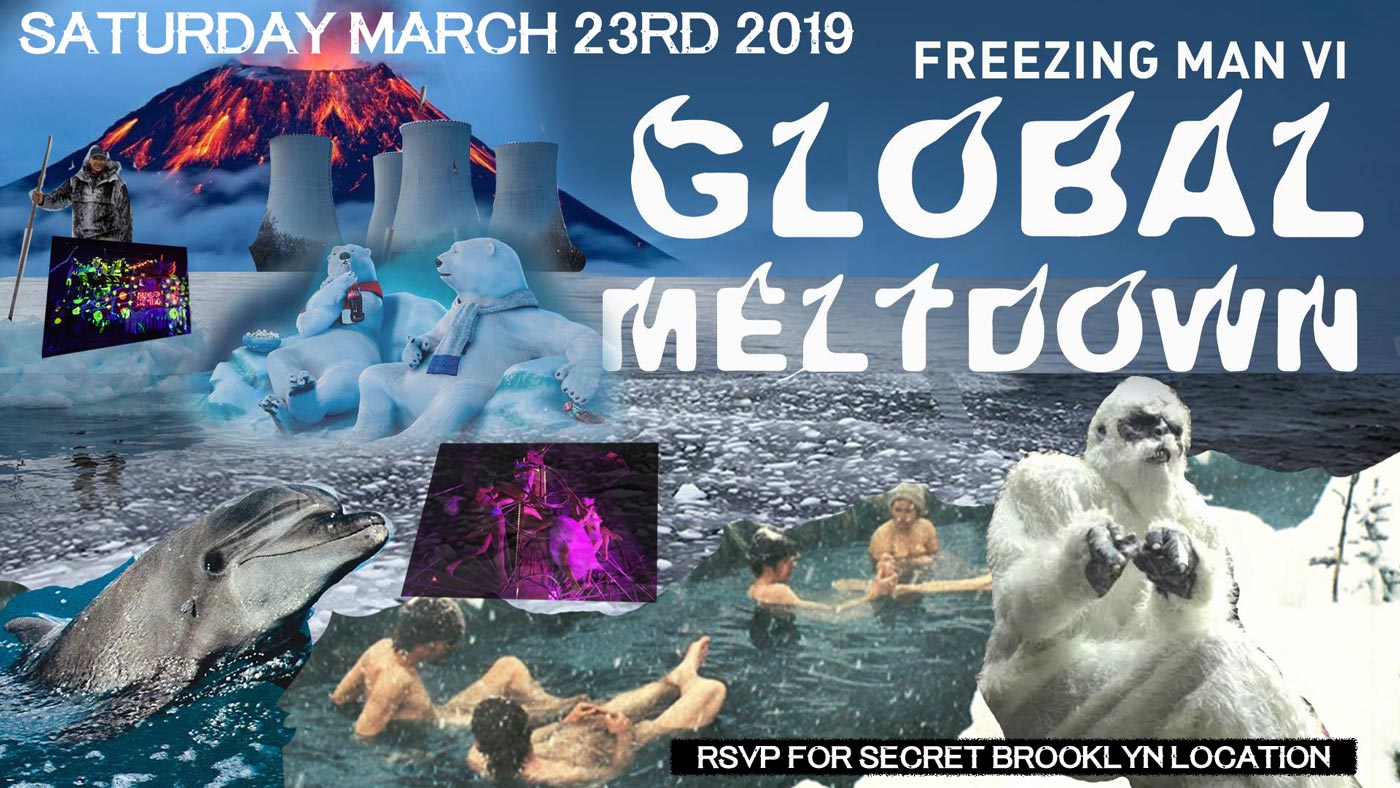 Freezing Man VI: Global Meltdown by Thunder Gumbo
❄️❄️Editor's note ❄️❄️
Saturday March 23rd, 2019 NYC-based arts collective Thunder Gumbo is bringing the ICE to Brooklyn for their annual Freezing Man event. This multi-level symphony of art, music and chaos is one of our favorite events that happens every year. If you have never been to a Burner party go to this event. The multi level venue they have is one of the coolest venues in the world and at the affordable price of $20 it is super affordable. All proceeds go towards getting their epic art car to burning man.
❄️❄️About ❄️❄️
At Freezing Man, we gather for an entire week in A SINGLE NIGHT to celebrate the cold, fight against the great melt of spring, and transcend time and space with a communal meltdown with music from all over the world and the power of community! Come join us in your finest ritual furs, snowsuits, and figure skating gear to compete in the winter Olympics gear as we gather to bend time and melt our blues away. The Thunder Gumbo arts collective is thrilled to be hosting our sixth year of ritual and revelry to pay our respects to the spirits of Winter, fight against global warming, and celebrate life together.
We are thrilled to be hosting our annual decommodified mini-festival in support of B.O.O.G.A., our legendary and beloved art car. We're taking over one of our community's most massive, magical, unique, and unlikely DIY spaces, and filling it with body moving DJs, mind-bending performances, intimate and immersive theatrical installations, lots of snow machines, and the magical contributions of the greater NYC Burning Man community.
We gather to transcend time and the four seasons, to abolish ICE, to let it snow, and to enact our most potent rituals together, as we do every year in the early Spring. The ritual transdimensional enviro-shifter technology that the Gumbonian elders have developed must be activated annually to cool off the planet, but the ignorant millennial youth have scorned these traditions, passed down through generations from the murky scrolls etched by our patroness, Freezyn R. Mann. Only by gathering together once again, as is our tribal heritage, can we conquer the existential threat of global warming. Come, join us, and fight against the great melting!
❄️❄️MUSIC ❄️❄️
With eclectic global, bass, house, tribal, groovy sounds from our extended family of Brooklyn Underground royalty.
2Melo (Junxion)
Geko Jones (Que Bajo)
Illexxandra (PLF / Empire Breaks)
Jayne Q. Public (Thunder Gumbo)
Keena.Maya (Future Clear)
Ninsopolis (Live AV)
PartyFoul5000 (Thunder Gumbo)
Sküllring (Honey House)
~special guest~ (you'll love em)
Zionysus (Ex Caelo)
❄️❄️ART & PERFORMANCE❄️❄️
THE FREEEZINE R. MANN MEMORIAL EFFIGY, with a WILD SURPRISE DESTRUCTION SPECTACULAR @ midnight!
The Abombinable Snowlympics
"Professional" Ice performers
+ MUCH MORE
❄️❄️COSTUME SUGGESTIONS ❄️❄️
Yeti Royalty
Deconstructed Snow Gear
Bewildered Persephone
Leg warmers. Just leg warmers.
Beastly
Snowlympian Athlete
Han Solo in the Carbonite
Glowing Ugly Christmas Sweaters
Nuclear Winter Wonderland Survivor
Ice Queen
Trench Coats + lingerie
Bobsled Runner
❄️❄️STORY ❄️❄️
In 1847, Freeezine R. Mann, the founding matriarch of the Thunder Gumbo arts collective, completed the trans-arctic crossing from Norway to Alaska by lion-sled. Pressure from the evil ice king and queen bent on the destruction of the peaceful Yeti empire did all they could to impede her progress. Yet she and her crew were determined. Some say the Gods themselves raised her team of giant ice-lions, the strongest ever born. It is said that Hephaestus and Thor took turns hammering away to create her sled made of time crystals.
Of course, she persevered. Upon reaching Alaska, the world rejoiced!
It was then that Freeezine knew what to do. She invited the world to what shall forever be remembered as the first Freeezine Mann festival complete with a primitive effigy constructed by Norwegian pagans, gogo dancing yetis, sideshow performers, mystics, and the Abominable Snowlympics athletic competition. It was tremendous, with 200,000 attendees gathering all the way at the North Pole. Lovers of the cold, beasts, adventurers, and those proud of this momentous human achievement gathered together. Their love and revelry in defiance of the evil ice king and queen created so much heat the polar ice caps began to melt. And they receded to the point that they wouldn't be seen for another 170 years.
F. Mann's memory as a community leader, pioneer, and bringer of warmth in our hearts lives on as the founder of our current decommodified non-profit community arts and expedition fundraising event! For the past 170 years, the Thunder Gumbo community has carried on this tradition. Since her death in 1996, a skeletal xylophone constructed from castings of F.R. Mann's skeleton plays a mournful yet celebratory dirge as we destroy an effigy of the sun itself at the stroke of midnight at every Freezing Man Festival.
❄️❄️Participate❄️❄️
Volunteers: https://goo.gl/forms/iODmj9G6LIbbysCY2
Artists: We are still recruiting installations, performances, and vendors! Please email gumbothunder@gmail.com or message the Thunder Gumbo page for information.
❄️❄️NON-PROFIT ❄️❄️
Thunder Gumbo is a not-for-profit event and art collective. All funds go directly towards art upgrades and necessary maintenance of BOOGA, our legendary art car, which has gone for many years to the Black Rock City desert for the annual Burning Man festival as well as Dance Parade, Gratitude, Halloween Parade, Freeform, and more. Our events are produced out of love for the cultivation of community, music, art, and adventure.
We are committed to cultivating a safe, supportive, and intentional space for our community. We have a zero tolerance policy for harassment, consent violations, racism, sexism, misogyny, poor behavior, or bad vibes. Free water will be available at all bars. If you feel like something is off, please call the situation to any staff member or security guard, and we will help.
A Video From a Previous Freezing Man :