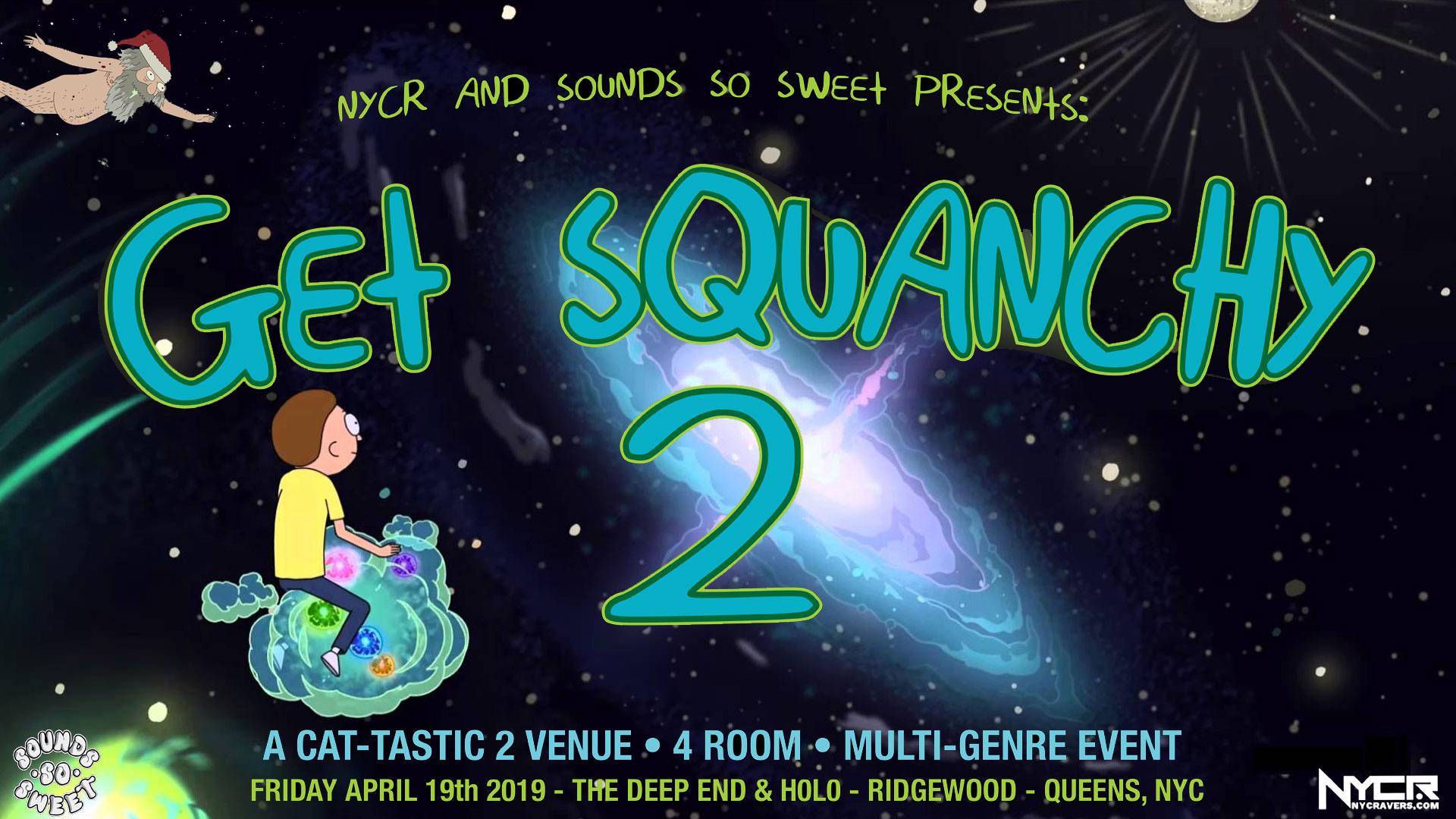 Get Squanchy 2
NYCRavers' CAT-TASTIC Tribute to Rick and Morty is BACK


ARE YOU READY TO GET SQUANCHY NEW YORK CITY?
On Friday April 19th in Brooklyn; NYCRavers and Sounds So Sweet are going to open a portal to the Squanchiest party ever squanched this side of the Promethean nebula! We'll be Squanching with over 35 djs performing on 4 themed stages as we combine 2 awesome Brooklyn Venues into ONE. This party will certainly TEAR A HOLE IN THE VERY FABRIC OF SPACETIME WITH ITS AWESOMENESS.

4 STAGES – 2 VENUES – 1 SQUANCHY RAVE
CLICK ON THE FLYER BELOW TO VIEW THE FULL SQUANCHY LINEUP!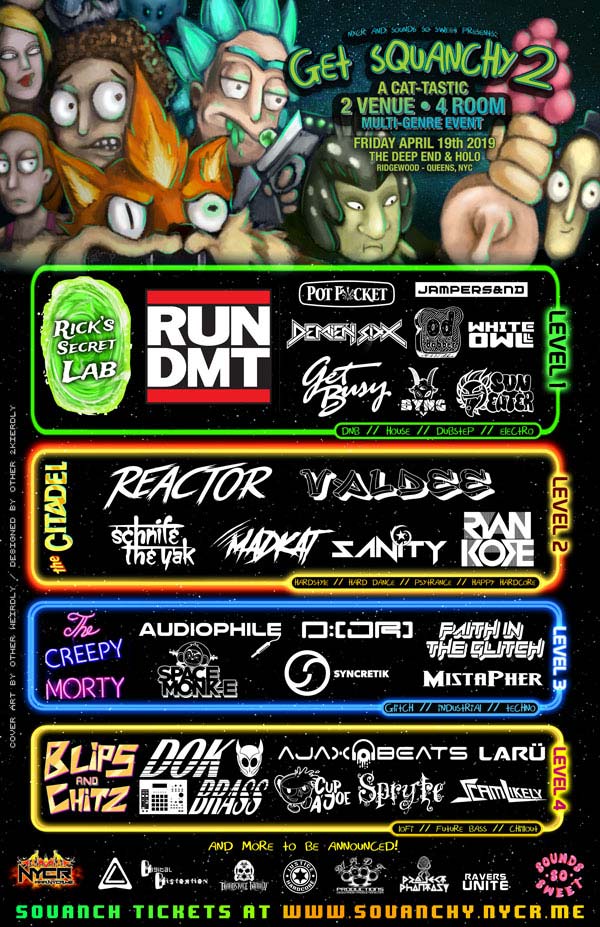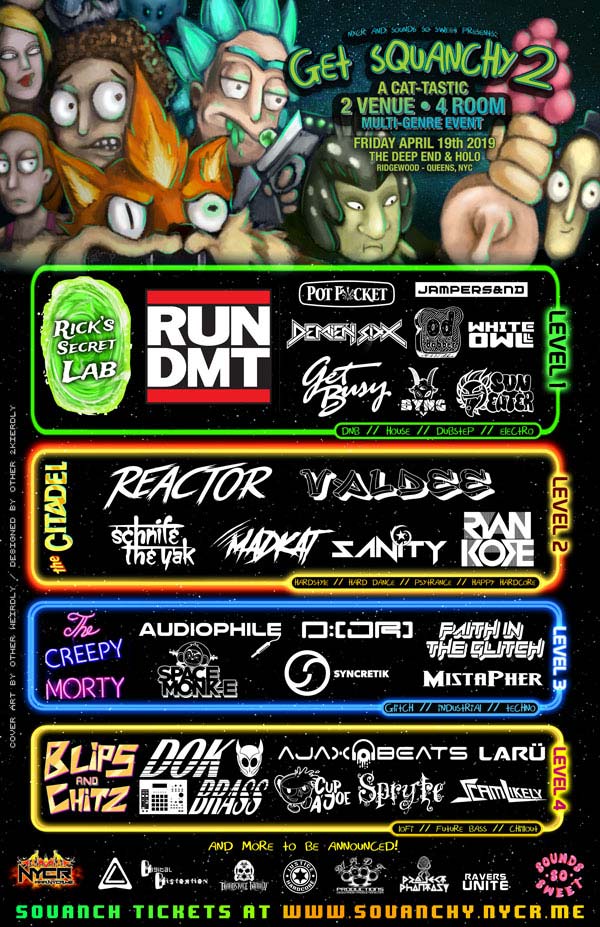 SHARE IT TO BE ENTERED TO WIN FREE TICKETS!
FOR MORE IN DEPTH DJ INFO CHECK THE FACEBOOK EVENT
* * FOUR Rooms of Squanch across TWO Venues * *
LEVEL 1
RICK'S SECRET LABORATORY
DNB // HOUSE // DUBSTEP // ELECTRO
Hosted by NYCRavers + Sounds So Sweet
LEVEL 2
THE CITADEL
HARDSTYLE // HARD DANCE // PSYTRANCE // HAPPY HARDCORE
Hosted by The Council of Ricks + Team Eric
LEVEL 3
THE CREEPY MORTY
GLITCH // INDUSTRIAL // TECHNO
Hosted by Audiolust
LEVEL 4
BLIPS AND CHITZ
LOFI // FUTURE TRAP // CHILLOUT
Hosted by The LoFi Escape + Mashfest NYC
[divider]█▓ EXTRAS ▓█[/divider]
Custom GFX Lasers and Intelligent Lighting by Storm Lighting & Sound
3D Visuals by Sounds So Sweet
Squanchy Video Game Arcade by Mashfest NYC
Deco Art Installations by 2k Industries, Zoë Stratton, Sy Malik, Sounds So Sweet and Jakki X Valentino

Live Painting

by Cindy Louwho
UV Face/Bodypainting by Inner Spirit Body Arts LLC and Christian Diaz
Free Fresh Fruit throughout the night
Passive Costume Contest – Our meeseeks will be on the lookout for the best costumes! Winner gets free tickets to all 2019 NYCR and SSS events! Runner ups get cool and/or weird prizes!
Vending by Cindy Louwho Designs, Keza Studios, NYCR and more!
[divider]█▓ TICKETS ▓█[/divider]
21+ Event, you must have valid ID.
*Extremely likely we will sell out before doors, get your squanch in advance!*
[divider]█▓ SQUANCHY THEME ▓█[/divider]
This event is a tribute to Rick and Morty, an animated series about a scientist who discovers interdimensional travel Rick and his Grandson Morty. The show was created by Justin Roiland and Dan Harmon in 2013 and has been renewed for 10 seasons by Adult Swim. This rave is done by fans and we are unfortunately not affiliated with these awesome people.
Watch Rick and Morty at https://www.adultswim.com/videos/rick-and-morty/
[divider]█▓ PAST EVENT PICS ▓█[/divider]
And that's the WA-A-A-AY the rave goes.
Next Event
Date

June 30, 2022

- July 4, 2022

Time

4:00 PM - 11:00 AM