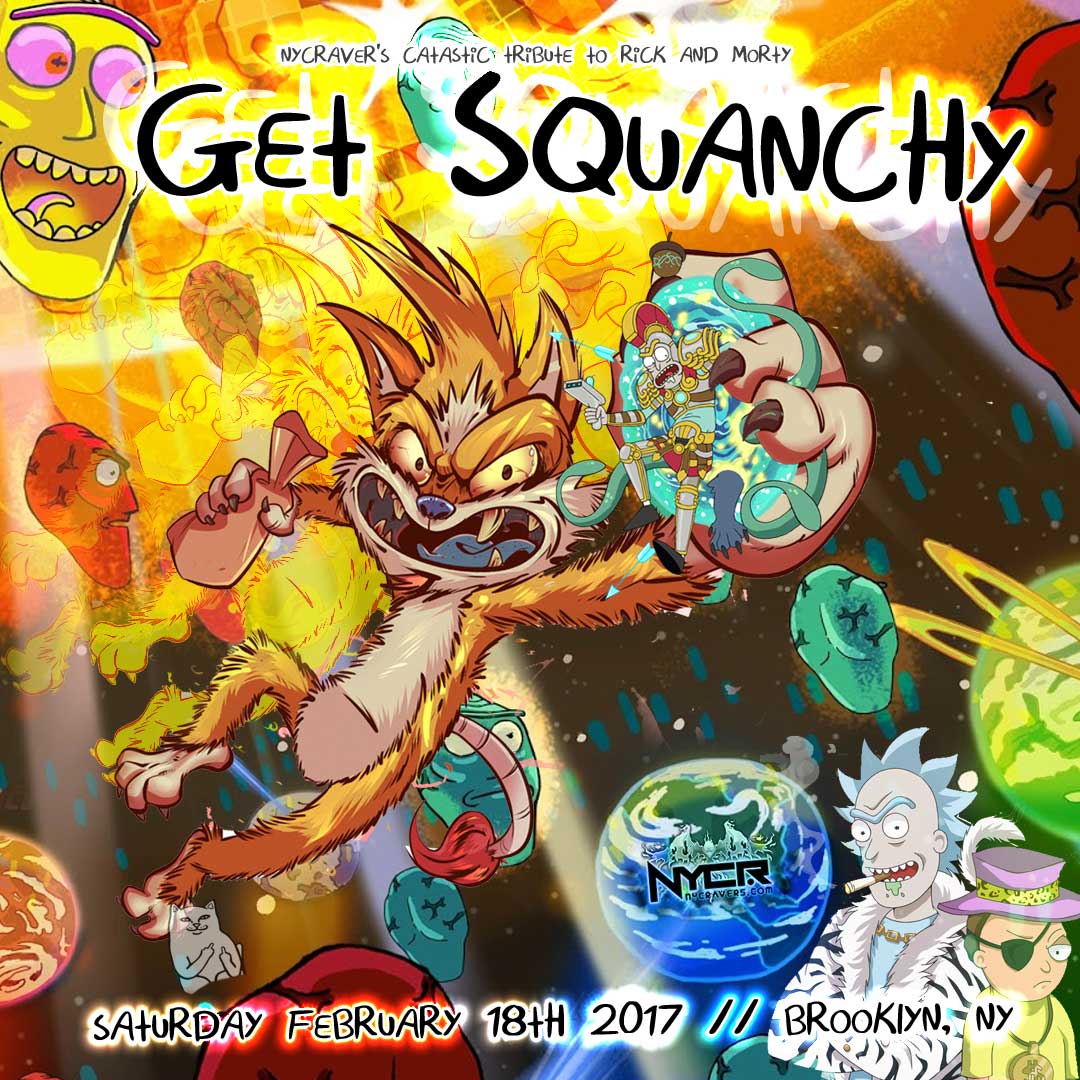 Get Squanchy
NYCRavers' CAT-TASTIC Tribute to Rick and Morty

ARE YOU READY TO GET SQUANCHY NEW YORK CITY?
On Saturday February 18th in Brooklyn; NYCRavers' is going to open a portal to the Squanchiest party ever squanched this side of the Promethean nebula! With multiple out of state headliners, 4 themed areas to explore with 2 stages of sound, we will certainly TEAR A HOLE IN THE VERY FABRIC OF SPACETIME WITH HOW AWESOME THIS PARTY WILL BE.
[divider]█▓ SQUANCHY LINEUP ▓█[/divider]
** Two Rooms of Squanch**
The "#1 Hardstyle Duo in the U.S."
REACTOR
(Hard with Style, NY) *HARDSTYLE* || www.REACTOR.nyc
[toggler title="READ BIO"]Reactor, also known as Erik Crowl & Rob Silviera, are America's #1 Hardstyle duo. Hailing from New York City, they grew up on a lively electronic music scene, but felt there was a need for more quality Hard Dance music. That's when they decided to form Reactor.
Their DJ sets are electrifying- seldom does an act take over an event with such energy and consistency. They began their DJ careers in 2010, and embarked on music production two years later. Since their founding, Reactor has enjoyed many successes in a relatively short period of time. Some of their most notable performances were playing the Q-Dance Stage at Mysterland in 2015, and most recently their performance at "The Melkweg," a well-known nightclub in Amsterdam in December 2016. The duo has also been instrumental in putting on some of the biggest events in the Northeast.
Reactor has a vice-grip on the music charts: their last five tracks have all held top five spots on Beatport Hard Dance top 100, their hit track "Party" made it to #2, and also made the QDance Top 40, and their track "Alone" with Royal S made #1 on Beatports Hard Dance Top 100. They've also gained support from artists such as Zatox, Dr. Rude, Dr. Phunk, MC Villain and MC Da Syndrome..[/toggler]
Rare NYC Appearance
STR8HOUSE
(NLEManagement , CA)
[toggler title="READ BIO" ]With The New Generation Of Music Producers At An All Time Demand, "STR8HOUSE" Has Shown Through And Pumped Up Dance-Floors Throughout The United States With Unique Beats And Extreme Bass-Lines. Growing Up In Orange County CA, He Has Overtaken The Local Industry And Has Now Expanded His Revolutionary Music To Mainstream America. Stepping Into The Scene "STR8HOUSE" Has Performed Along Side Many Established Artists / Producers including Donald Glaude, Coone, DJ Bl3nd, W&W, Deorro, Italian Sensation, Showtek, DJ Irene, Steve Smooth, Manufactured Superstars, Reid Speed… The list Continues… Stepping Up His Performance "STR8HOUSE" Has Been Classified As A Internationally Recognized Artist Performing All Across The The United States & Internationally For Major Brands Such As Heineken.[/toggler]
Hardcore Invaders Aka DJ Candykid vs Wink-E
(Ravers Only/Paradox Productions, NY) *UK HARDCORE*
[toggler title="READ BIO" ]DJ Candy Kid & DJ Wink-E are both well known for their hardcore madness respectively. However when thrown on the decks together they bring a force to the table that isn't to be reckoned with. In Summer of 2011 Candy Kid and Wink-E collaborated for the first time, and that set was so memorable that they had to come together again later that year. They became the talk of the local scene and since than come together regularly to thrown down some of the craziest Hardcore Mash Up sets. Be on the lookout for sets from DJ Candy Kid & Wink-E. These are two DJs you don't wanna F**k with!!!
Disclaimer: DJ Candy Kid and Wink-E are not to be held responsible for murdering the decks. Nor are we responsible for your girlfriend's new love for Happy Hardcore. It is not our fault we do this right.[/toggler]
Black Daddy
(Hardstyle Family 412, ,PA) *HARDSTYLE* || SOUNDCLOUD
[toggler title="READ BIO" ]Black Daddy fell in love with hard dance music when he was only 14. Being part of his local industrial scene he developed a dream to pursue music. He took this ambition and his new found love for EDM and turned it into a lifelong dream. Black Daddy taught himself how to produce many genres from Industrial to Gabber and Speedcore. As he became more and more intrigued in different styles of dance music, he discovered one that he was especially passionate about – hardstyle. He began pouring his devotion into producing hardstyle, inspired by artists such as Coone, Zany, and the Headhunterz. Black Daddy's passion for Hard Dance music was something he knew he had to share with the world, a self-proclaimed Hard Dance Missionary. It wasn't long before he had dance floors packed, sharing the stage with the likes of Headhunterz, Angerfist, & Isaac (Just to name a few). He is determined to show everyone on the dance floor how to open their minds and appreciate the music he loves so much.[/toggler]
[column size=one_third position=first ]
Dritto
(NY) *ELECTRO*
POT POCKET
(Justice Hardcore, OH) *UK HARDCORE / DnB*
JAYANTA
(CT) *PSYTRANCE*
BASS ROCKWELL
(Brooklyn Underground, NY) *MULTI GENRE*[/column][column size=one_third position=middle ]
AJAXBEATS
(NYCR, PA) *DRUM AND BASS*
FELIX BIZARRE
(Audiophiles Ent, NY) *HARDSTYLE*
GVBRIELLE
(NYCR, PA) *HOUSE*
MIKEY CRUMBS
*DIRTY DUTCH/ ELECTRO*[/column][column size=one_third position=last]
T3
(NYCR, NY) *DUBSTEP / TRAP*
iLL DiABLO
*MULTI GENRE*
GEORGIE VODKA
*MULTI GENRE*[/column]
[divider]█▓ EXTRA SQUANCH ▓█[/divider]
• Squanchy Visuals by SoundsSoSweet
• Squanchy Art Installations by 2k Industries, Zoë, The Art of Liz Hogan (LIVE) and Jakki Valentino
• Squanchy Clown Antics by The Techno Clowns
• Squanchy Dancing by Lonni Moon , Shorty Rock and Olivia Rose.
• Squanchy Lycra Installations by GVBRIELLE
• Squanchy Rick and Morty and other Dope Hat Pins by CatchaFireHatPins
• Squanchy photography by Porcus Photography
• Squanchy Free Fresh Fruit throughout the night
• Squnchy Costume Contest – Winner gets free tickets to all 2017 NYCR events!
Post your squanchiest Rick and Morty pics on the event page for a chance to squanch free tickets motherf*cker!
[divider]█▓ TICKETS ▓█[/divider]
18+ Event, you must have valid ID.
$15 Schmeckles Tier 1 Squanch SOLD OUT
$20 Schmeckles Tier 2 Squanch
Final Squanch TBA
*Extremely likely we will sell out before doors, get your squanch in advance!*
And that's the WA-A-A-AY the rave goes.