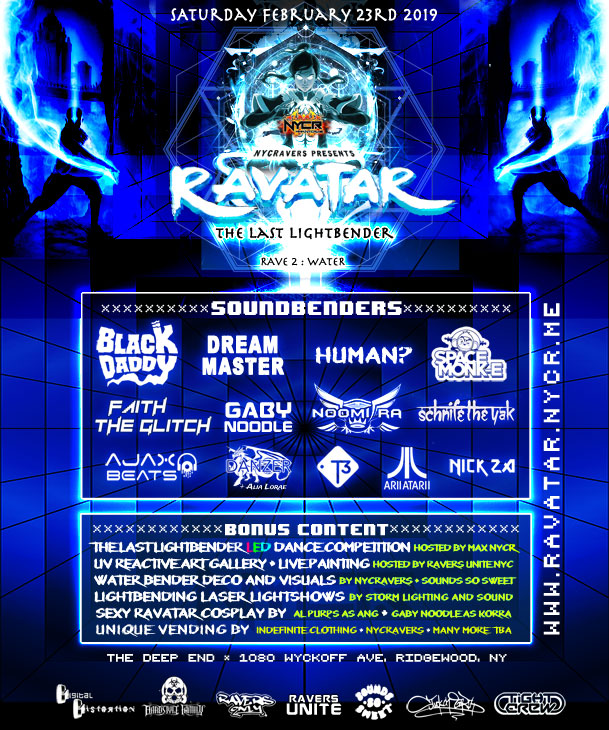 NYCRavers Presents Ravatar : The Last Lightbender 2
An Avatar Ravexperience
House. Trance. Drum and Bass. Techno. Long ago, the four genres lived together in harmony. Then, everything changed when the mainstream EDM scene attacked. Only the Ravatar, master of all four genres, could stop them, but when the world needed them most, they vanished. 4 years passed and we discovered the new Ravatar, a lightbender named NYCR. And although their lightbending skills are great, they have a lot to learn before their ready to save anyone. But I believe NYCR can save the scene.
FULL LINEUP TBA 1/23/19
Pittsburgh's Hardstyle King
BLACKDADDY
(Hardstyle Family 412, PA) *HARDSTYLE* || FB PAGE | SOUNDCLOUD
READ BIO
Black Daddy fell in love with hard dance music when he was only 14. Being part of his local industrial scene he developed a dream to pursue music. He took this ambition and his new found love for EDM and turned it into a lifelong dream. Black Daddy taught himself how to produce many genres from Industrial to Gabber and Speedcore. As he became more and more intrigued in different styles of dance music, he discovered one that he was especially passionate about – hardstyle. He began pouring his devotion into producing hardstyle, inspired by artists such as Coone, Zany, and the Headhunterz. Black Daddy's passion for Hard Dance music was something he knew he had to share with the world, a self-proclaimed Hard Dance Missionary. It wasn't long before he had dance floors packed, sharing the stage with the likes of Headhunterz, Angerfist, & Isaac (Just to name a few). He is determined to show everyone on the dance floor how to open their minds and appreciate the music he loves so much.

HUMAN?
(Mutant Jazz & Transmutation, NY) *Multi Genre Rave Anthems Set*
https://soundcloud.com/thespellcast/tracks
DreamMaster
(Global Evolution / NYCRavers, NY) *Hard Trance*
Noomi Ra
(Digital Distortion, NY) *House / Techno*
Space Monk-E
(Smooth Villan Records, NJ) *House/Techno*
Faith in the Glitch
*Glitch*
GABY NOODLE
Cosplaying as Ravatar Korra
(NYCRavers / Digital Distortion, PA) *Multi Genre*
AJAXBEATS
(NYCRavers, PA) *Drum and Bass*
Schnife The Yak
(Sounds So Sweet, NY) *Schnife Things*
Kyo "Danzer" Uchida ft Alia Lorae
(NYCRavers, NJ) *Psytrance w/ Live Vocals*
T3
(NYCRavers, NY) *Drum and Bass / Trap*
DJ AriAtariI
(Atarii Empire, NY) *Multi Genre*
Nick Za *Not the DJ Contest Winner, added by Al Purps to Open*
(Ravers Unite NYC, NY) *Drum and Bass*
Hosted by Al Purps in FULL COSPLAY as Ravatar Ang

+ Live Painting by Cristian Panda Escalante
+ The Last Lightbender LED Dance Competition Hosted by Max NYCRavers – Show off your lightbending skills and win prizes! All LED POI, Gloves, Cats, Etc. is allowed.
+ UV Reactive Art Gallery + Artmaking Station Hosted by RAVERS UNITE NYC
+ Water Bender Deco Art Installations by NYCRavers Eyecandy
+ Themed Visuals by Sounds So Sweet
+ Lightbending Laser Lightshows by Storm Lighting & Sound
+ Sound by Bass Rokwell
+ Vending by Indefinite Clothing
21+ Event
$10 / $15 / $20 PRESALES
Get Tickets @ ravatar2.eventbrite.com
▒▓█ Costume Inspirations █▓▒
Water Tribe Warriors, Water Benders, Blue, Schnife the Yak, Fire Benders, Earth Benders, Air Benders
█▓▒ LOCATION ▒▓█
The Deep End
1080 Wycoff Ave, Queens NY
L Train to Halsey ST (Note : L Train becomes a bus after 10:45PM)