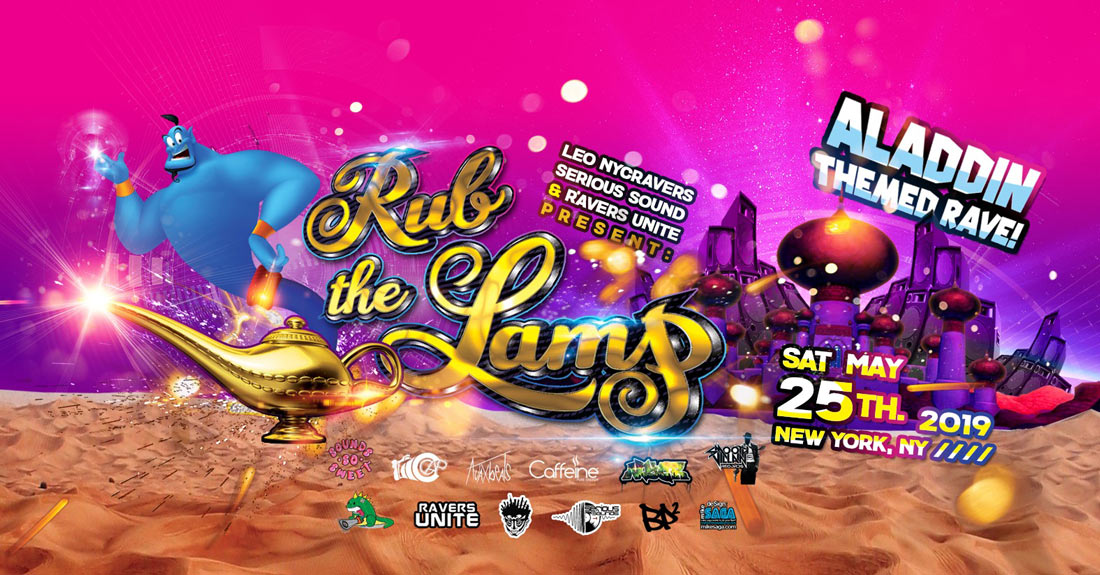 Local Time
Timezone:

America/New_York

Date:

May 25, 2019

- May 26, 2019

Time:

9:00 PM - 4:00 AM
Time
9:00 PM - 4:00 AM
Cost
15 - 20
Leo NYCR Presents Rub The Lamp
Ahhh, PLUR & good evening to you worthy raver. Please, please, come closer–
Welcome to New York… City of mystery, of enchantment, and the finest RAVES this side of the Hudson river! I can see that you're only interested in the exceptionally rare… I think then, you would be most rewarded to consider… this. Do not be fooled by its commonage title. Like so many things, it is not what is outside, but what is inside that counts. This is no ordinary RAVE! It changed the course of many a RAVER's life. Young RAVERS who liked this RAVE were more than what they seemed… Kandi in the rough. Perhaps you would like to be part of this tale? It begins on a dark night…
Leonycr, Serious Sound, and Ravers Unite NYC present
ℛυ♭ тнє Laмp
An Aladdin themed rave
Featuring 2 Themed Rooms to Explore…
[divider]☆✪☽█ The Sultan's Palace █☾✪☆[/divider]
(Caffeine, FL) *House/Trance*
(I ♥ Industrial, PA ) *Multi Genre*
Wisdom (MA.D.E. , NY) *Drum and Bass*
Elzwerth (M.A.D.E. , CT) *Drum N Bass*
AJAXBEATS (NYCRAVERS, PA) *Lo Fi*
Schnife The Yak (Sounds so Sweet, NY) *Multi Genre*
Space Monk-E (Smooth Villan Records, NJ) *Techno*
[divider]☆✪☽█ Agrabah █☾✪☆[/divider]
(BP2, Konkrete Jungle, NY) *Drum and Bass*
(NYCRavers, PA) *House*
Plockasaurus (DA FUNK, NY) *Footwork Jungle*
Serious Lee vs Scam Likely *Multi Genre*
(BP2 ,NYCRAVERS, SERIOUS SOUND, RAVERS UNITE, SMOOTH VILLAIN RECORDS, NY)
Kyo "Danzer" Uchida (NYCRavers, NY) *Psytrance*
DJ Spryte (NYCRavers, RAVERS UNITE NYC, NY) *Bass Music*
Beeker (RAVERS UNITE NYC, NJ) *Happy Hardcore*
[divider]☆✪☽█ PRODUCTION █☾✪☆[/divider]
✪ Mesmerizing Lasers and Intelligent Lighting by Storm Lighting & Sound
✪ Magic Carpet Lycra Art Installation by NYCRavers
✪ Lamp Shattering Sound by the Schep Bros
✪ UV Face/Bodypainting by Inner Spirit Body Arts LLC
✪ LED Dance Performances by The RaveNinjas
✪ Promotional Campaign and Rave Logistics by 2k Industries
[divider]☆✪☽█ LOCATION █☾✪☆[/divider]
Studio M Bar & Lounge
36-41 Main St
Flushing, NY 11354
[divider]☆✪☽█ DIRECTIONS █☾✪☆[/divider]
SUBWAY : 7 TRAIN TO MAIN ST
LIRR : Port Washington Train to Flushing Main St
[divider]☆✪☽█ PARKING █☾✪☆[/divider]
Cheapest nearby parking lot is at 135-23 39th Ave, Queens, NY 11354
[divider]☆✪☽█ TICKETS █☾✪☆[/divider]
18+ Event, You Must have VALID ID to enter
Limited Capacity Venues. Buying Presale Tickets = Guaranteed Entry.
$15 Presale Tickets Until 5/25/19
$20 at the door
Use the share locker below and get $3 off your ticket! (Limited Quantity, while cucaws last) or scroll down for direct link.
Or visit the ticketing site directly here.
18+ Event, you must have valid ID.