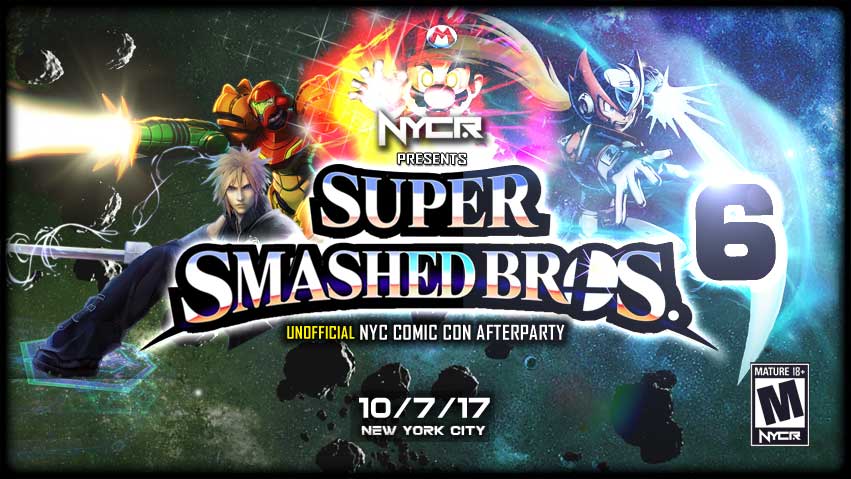 Super Smashed Bros VI
A New York City Comic Con 2017 Afterparty
On October 7th, 2017 NYCRavers and Nocturnal Events present the 6th installment of our Annual NYC Comic Con afterparty : Super Smashed Bros! We've pulled out all the cucaws this year securing a 7 room dream venue just 10 minutes from NYCC via train and we're theming every single room! With over 30 djs and 20 visual artists on board its sure to be the best smashed bros yet! Don't sleep on this once in a ravetime experience!
7 THEMED ROOMS AWAIT YOU…
Thanks to the rave gods we've secured a virgin 7 room Manhattan venue that is just 10 minutes from NYC Comicon this year and we are going all out. Our Main headliner and more performers will be in announced in Phase 2 coming soon!
For the First Time at a NYCR Event We Present 7 rooms….
---
ROOM 1
Walugi's LED Castle
Super Mario Themed
Genres
:
Drum and Bass seasoned with Electro, Chiptune and Hardstyle
Featuring DJ Performances By….
One of the Best Live DnB Acts on the East Coast…
(Jungle Plus Drums, IL) *Live Drum and Bass*
SOUNDCLOUD
Spinscott is an international performance DJ, producer, and lifelong drummer who created and regularly performs an exclusive format called Jungle Plus Drums. Each unique set features 100% LIVE Loop-Free Jungle played real-time on the drum machine, combined with mixing of original & classic tracks on CDJs plus drum rhythms played with the music. Spinscott has been active in the Jungle / Drum and Bass music scenes since the mid 1990's, and has performed at hundreds of events and industry showcases.
NYC's Queen of Drum and Bass….
NYC Hardstyle Legends….
(Electronic Khaos, NY) *HardStyle*
With Support From…
Dj Balls (NYCR, NJ) *Electro* ◆ Gvbrielle (NYCR, PA) *Multi Genre* ◆ S3rious Lee (NYCR, NY) *Drum and Bass*
---
ROOM 2
Lost Woods
Legend of Zelda Themed
Genres
:
Trance, House, Psytrance , Dubstep
Featuring DJ Performances By….
The Mightiest DJ in all The lands….
( I Love Industrial, PA ) *Breaks +more *
Tom Rogers
(Akashik Rift, NY) *Trance*
Plus…
Christian Caliente (NYCR, PA) *Breaks* ◆ REXTC ((200 Proof, Laissez-Faire, PA) *Trance* ◆ Integrity (Hardmind / NYCR, NY) *Psytrance* ◆ DC-10 *Techno*
---
ROOM 3
Highwind Airship
Final Fantasy Themed
Genres: Hardstyle, Happy Hardcore, House, Hardcore and Hard Dance.
Hardcore Invaders
aka DJ Candy Kid vs DJ Wink-E
(RaversOnly / Paradox Productions, NY) *UK HARDCORE*
Alchemy
aka DJ Atom C vs Oscillot (NYCR's ORIGINAL Token Black Guy)
(Forbidden Little Girls Collective/Groove Therapy, NY)
*Hard Dance NYCR RaveUnionification Set*
Plus…
DJ Dice (NYCR, NJ) vs L░░░░░ ░A░░N░░░░ *Hardstyle* ◆ ZOE-X (NYCHD, NY) *Uptempo Hardcore* ◆ Toxic Soda aka Spryte vs AJAXBEATS (NYCR, NY/PA) *Drum and Bass* ◆ OD Dabs *DubStep* ◆ Problem Unit (303 Family,PA) *Happy Hardcore*
---
ROOM 4
Kirby's Dreamland
Experience our heavenly 21+ Chillaxation Area w smashed bros themed drinks, awesome vibes and Kirby's Fluffy Cloud Lounge.. And weve even convinced Kirby Hersef(a cosplayed Lonnie Moon) to make us a Fluffy Cloud Lounge.
---
ROOM 5
Final Destination Art Arcade
Super Smashed Bros Themed
One year we had an entire theatre for our Super Smashed Bros tournament, another time we designated an entire floor of a venue for it… This year we're taking it to the next level by creating the first ever? Art Arcade! (Full Details In Bonus Levels Below…)
---
ROOM 6
Hyrule Market
Legend of Zelda Themed
Stock up on Potions and Gear at the infamous Hyrule Market! From professional massages to crystal wrapping we're sure you'll find all the things you desire. (Scroll Down for Vendor List)
---
ROOM 7
Squanchy VIP Lounge
Rick and Morty Themed???
Our Rick and Morty Themed Staff/VIP Lounge! Though VIP is not for sale, must be earned! People working the event and people who come in the best costumes only! Anyone given VIP that is not staff also will get free admission to our Rick and Morty Themed Squanchy New Years Catstravaganza!!!
STAFF WHO DO NOT HAVE A CUSTOM PROFILE PIC MADE WILL NOT GET A LAMINATE!
---
Wait a sec.. Room 8?! What is this Hogwarts?! (Please let it be Hogwarts…)
Lé Mario's Resturanté
Stop by Lé Mario's Resturanté for FOOD and Themed Beverages at reasonable prices all night long!
---
[divider]█▓ BONUS FEATURES ▓█[/divider]
➡ Custom built LED Castle Stage by NYCRavers
➡ 3D Projection Mapping and Visuals by Sounds So Sweet
➡ Live Painting by Kyle May, ShadowCasters and Serenity Sommers
➡ Cosplay Fetish Performance by Raven Marie
➡ Festival Grade Sound by Nocturnal Events inc..
➡ Kirbys Fluffy Cloud Lounge by Lonni Moone
➡ Zelda Burlesque Performance by Shorty Rock ? (Please lol)
➡ UV Forest Lycra Deco by Oraculum
➡ Vinyl Fantasy Highwind Airship Deco by Gvbrielle
➡ Our 6th Annual Super Smash Bros Tournament with $100 Cash Prize Hosted by Eric KitCoon Rosa
➡ Free Play Video Game Arcade Zone Hosted by Jaime Lassalle wirh help from Christian Caliente's son…. Full Game List TBA!
➡ Smashed Bros Art Gallery featuring themed art from…
Zoë Rae Stratton , 2k Industries , Pixxie Haxx, Shadow Casters Crew and More On The Way!

HYRULE MARKET VENDORS
➡ Professional Massages by Flomation and Bodyworks www.flomotionandbodyworks.com
➡ Hand Made Jewelry and Clothing by Mutations by agent orange
More Vendors TBA in Phase 2
[divider]█▓ LOCATION ▓█[/divider]
7 Room Virgin NYC Venue TBA Week Of
(Closest Subway Stop ➡ Grand Central Station)
This 100% Confirmed Legal Gem of a Venue is just 10 minutes from NYC Comic Con in the Heart of Manhattan. We will be releasing the venue address closer to the event!
We have created a detailed map from the blueprints you can check out at goo.gl/8b14tX
[divider]█▓ TICKETS ▓█[/divider]
18+ Event
$15 / $20 / $25 / $29 PRESALES
Get Tickets @ www.getsmashed.eventbrite.com
---
VIDEOS FROM PREVIOUS SMASHED BROS
Smashed Bros vs Cybertron Aftermovie (2014) : https://www.youtube.com/watch?v=m6kHkC-sEuc
Rockman Live at Super Smashed Bros 2 : https://www.youtube.com/watch?v=2cKv9pMH18w
(Extended Version: http://goo.gl/qcTcph )
---
A Message from 2k
This is it, after 2 years of bringing the scene back from the jaws of death we finally are at that make it or break it line. We're putting our all into this… Let us bring the scene back to its rightful levels of awesomeness… Are you with us?
#nycravers #getsmashed #SSB6