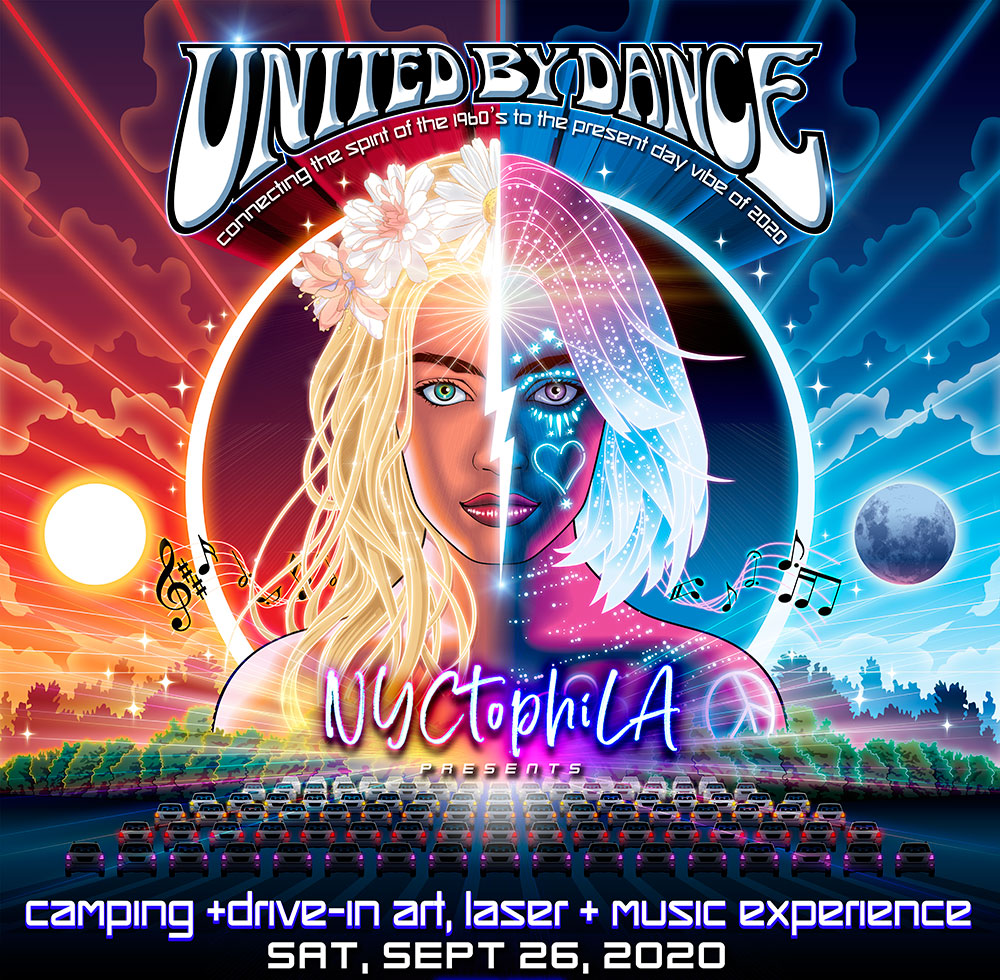 United By Dance Camping & Drive-In Gathering
The world needs unity more than ever. Ravers are the new generation hippies & we are uniting to raise the vibration through art, music & dance… welcoming people of all kind with no restrictions except to peacefully love, respect and value each other, United by Dance.
Join us for an intimate daytime to nighttime camping gathering drive-in style at Yasgur Farms; the home of Max Yasgur and the Woodstock Reunions!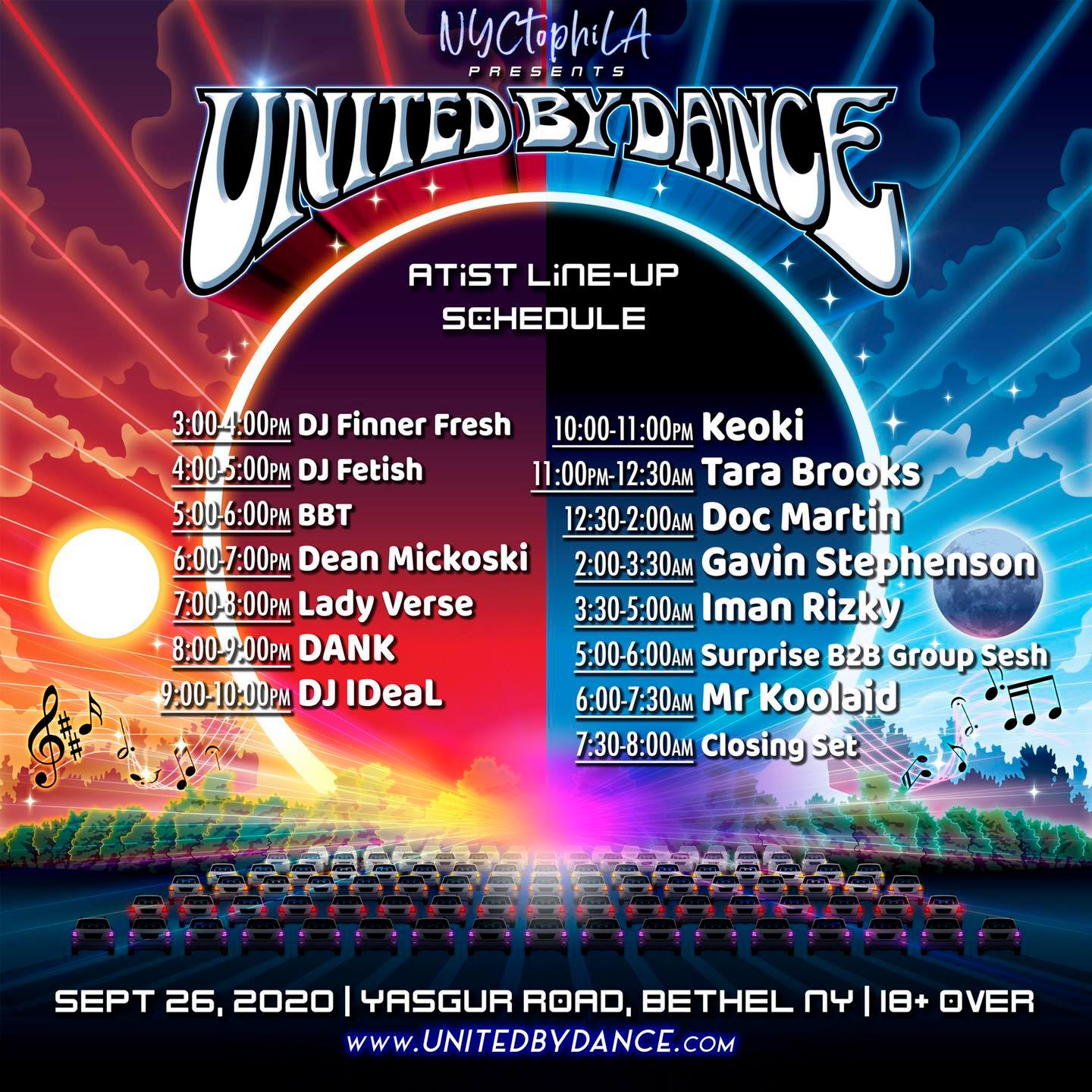 EXPERIENCE
A drive-in style event like never before experienced in a truly iconic location. House, Tech House & Techno will be served to you non-stop through amplified sound & your FM receiver with plenty of space to lay out by your car & enjoy with friends in a safe outdoor location.
Featuring:
Doc Martin
(Sublevel)
Tara Brooks
(Bedrock/Desert Hearts)
Keoki
(Trax Records)
Mr Koolaid
(AMF / Sublevel)
(Ultra/ TurnItUp Muzik/Funky Element)
Lady Verse
(TurnItUp Muzik/WMLD Radio)
DJ IDeaL
(Docka Records)
Gavin Stephenson
(ebb & flow)
Iman Rizky
(ebb & flow)
BBT
(dubsnacks)
DJ Fetish
(smoothgroove)
This limited capacity event is expected to sell out; get your tickets NOW. The weather is expected to be perfect but we'll open rain or shine! Camp land option available too for those that want to arrive early or spend the weekend. We will have food and merch vendors but no alcohol. BYOB responsibly. Cars will be checked. No glass, no fireworks, pets extra $10.
LOCATION

Yasgur Road
34 Yasgur Rd
Bethel, NY 12720
There will be projections, lasers and multimedia for this event. A bit more intimate than a typical drive-in, we think you're gonna appreciate and prefer this. This is sacred ground. It's the original site where Woodstock was. Where music brought us all together. Gates open at 3pm, This event is fun for all 18 & up! (must be accompanied by 21+ adult)
TICKETS
Tickets are priced per car @ 4 patrons per car ($50/head). There is a very limited # of spots availiable (safety reasons). You can use the link below to grab tickets and get specifics on all of this:
We (NYCR) setup a carpool system via our friends over at RickyRides to help ravers find people to fill spots at http://www.rickyrides.com/united-by-dance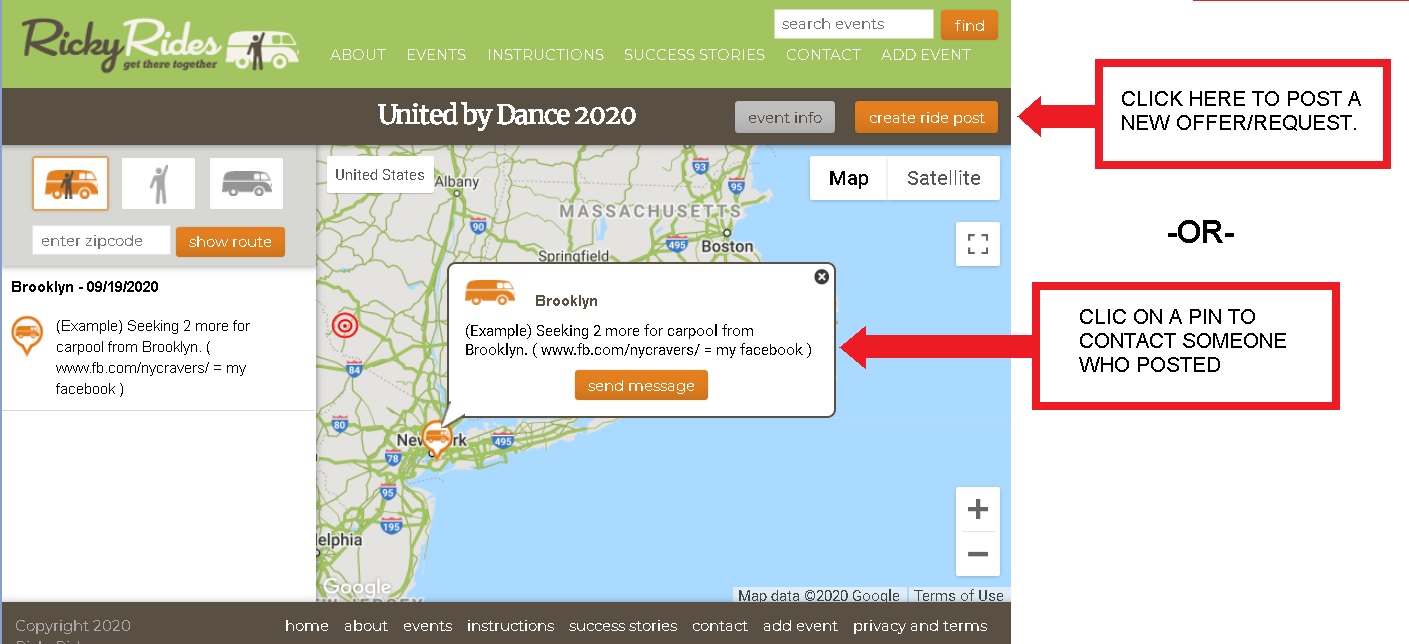 SAFETY
This is a CDC social distancing compliant event with strategically placed and distanced cars, marked walkways and mobile ordering for food & vendors.
All CDC COVID-19 recommendations shall be adhered to:
Wear your MASK in public. Stay 6ft apart. Wash hands often.
CAMPING : Tent camping is available through the venue and can be paid for at the gate (if not sold out). Limited camping available, so get your reservation today. We'll have RV spaces available with full hook-ups for $50 a night.
BATHROOMS : We have bathrooms on site that will be staffed and sanitized to ensure everyone's safety. We ask that everyone adhere to the guidelines and practice safe social distancing during the event. We are taking everyone's health and safety very seriously, anybody who is not being safe or respectful of others will be immediately asked to leave the premises.
PARKING : Parking will be spaced far enough apart to allow everyone to have enough space between them. We understand some people may want to set up chairs outside their vehicle to enjoy the show. While this is permitted, we ask that everyone be courteous of their neighboring vehicles and maintain social distancing.
Please, no tents or camping in the parking area. Camping is permitted only in the campground area in the woods.
REFRESHMENTS : We will have a big menu food vendor (The Groovelink Cafe'), on-site who will be ready and able to serve everyone while adhering to safety standards set by the CDC and local authorities. We'll will be taking orders via phone text, and sending text messages to let you know when your order is ready to be picked up. A menu and contact info will be provided upon your entrance to the event. Masks must be worn when picking up your food order. Food must be brought back to your car area for consumption.
VENUE : In 1969 a dairy farmer by the name of Max Yasgur allowed 400,000 youth to gather on his alfalfa field and celebrate 3 days of Peace, Love, and Music. A few years after the Woodstock festival Max Yasgur passed away and his wife Miriam began selling the 1100 acre estate. In 1988 Roy Howard purchased 104 acres of the property which included the original Yasgur homestead and calving barn.
Prohibited Items: NO Aerosol products/cans • NO Balls or Frisbees • NO Drugs or drug paraphernalia • NO Gas masks • NO Glass, cans, cups or coolers • NO Illegal substances • NO Large purses, bags or backpacks (over 12″×12″) • NO Markers, pens or spray paint • NO Unsealed tampons or pads (upon entry) • NO Weapon or weapon accessories of any kind, real or fictional (including whips, lightsabers, pocket knives, pepper spray, fireworks, fake weapons/props, etc.)
---
Any questions, problems, concerns, impure thoughts and desires contact info@UnitedByDance.com
Thank you all, love one another. Peace.
Next Event
Date

September 29, 2023

Time

10:00 PM - 4:30 AM