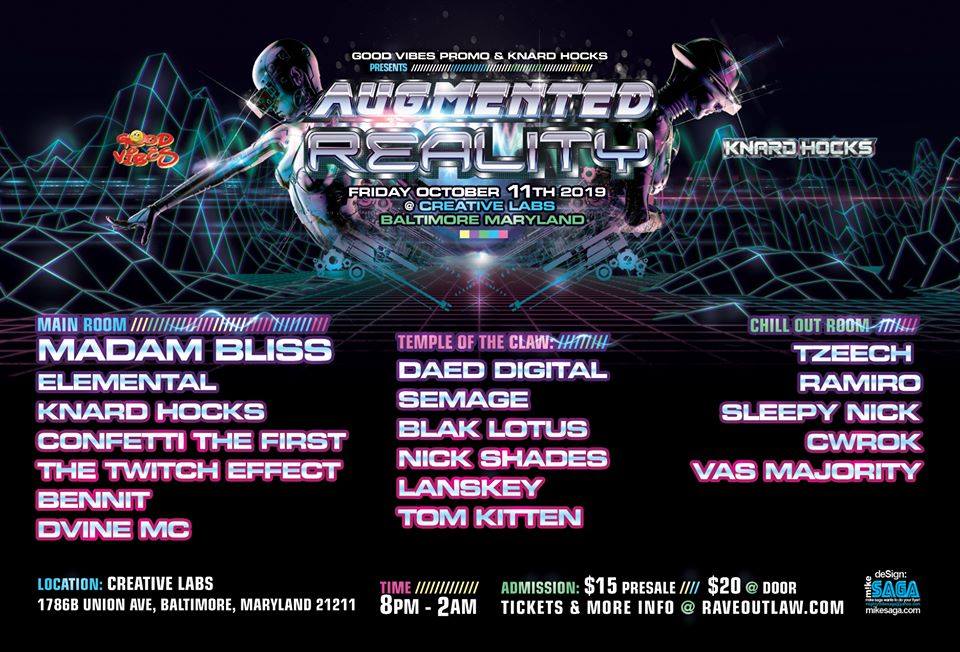 While New York City may have been the birth of the east coast Rave scene and Philly a close second, one city has always stood out as a pinnacle of the underground electronic dance music circuit worldwide- Baltimore, Maryland.
Even in the early 1990s, Baltimore has stood its ground as a mecca for Ravers to find some of the most talented and groundbreaking DJs and certainly a few of the world's state of the art dance halls such as Paradox and Bourbon Street with their top of the line sound systems and lighting.
In recent years, the east coast underground seems to be making a resurgence, and the fact that Baltimore Ravers are some of the most hardcore and dedicated remains true. This was evident last Friday at Creative Labs, a collaborative art studio and music venue where Good Vibes Promotions produced and hosted their second event this year, Augmented Reality.
John Vibes, founder and owner of Good Vibes, after taking some years off from producing events to tend to personal matters and pursue a successful writing career, has recently returned to the Rave scene after having a release party for his newest book, Paper Squares and Purple Starts, My Life as A Rave Outlaw, which was also held at Creative Labs earlier this year.
To start, Creative Labs is one of the most fitting venues for a Rave the area has seen in about a decade. It is not only extremely spacious and well tucked out of the way so that a Rave may go undetected without disrupting unsuspecting neighbors and passersby, it is the kind of venue that lends itself to an underground warehouse feel without being illegal and sketchy. The space houses many artist studios, rehearsal spaces, galleries and pop up shops displaying an array of oddities and accessories to go with your Rave attire. The decor and architecture are as funky and psychedelic as it gets.
Creative Labs also accommodates DJs and live musicians with state of the art sound systems on multiple stages as well as smaller rooms for chillout. The in house projections on the mainstage as well as the scenery surrounding the DJ are top notch.
Good Vibes used this particular event to debut an ongoing project they have dubbed Augmented Reality, hence the name of the party. This is a projection utilizing an Xbox 360 Kinect to capture ones body movements in front of a white wall to create colorful trippy patterns. The crowd had a lot of fun with it as did the programmer.
As usual, Good Vibes takes no shorts when putting together a lineup of DJs and performers to soundscape a proper Rave night. Many in the Baltimore scene would expect a Good Vibes event to lean more towards the hard dance genres, but this night was a special treat. There were two main stages of nonstop underground dance music. The main stage went heavy on the Drum and Bass with up and coming Junglist aficionados, Bennit and Twitch Effect, setting the pace in perfect stylee. On the second stage, some of Baltimore's best DJs kept the house music bumpin' all-night-long.
At peak time Baltimore's most dedicated Ravers gave their beloved Madam Bliss a very warm welcome as she took to the decks bringing that upbeat dance-your-ass-off sound she is most known and loved for.
Of course, Elemental, Baltimore's favorite Psytrance guru, rounded the night off with one of his stellar performances.
All in all, it was a night Ravers from around the tri-state area will talk about for years to come.
Good Vibes has made a solid return and will clearly be producing high caliber events. This event proved that Baltimore's underground maintains a following of diehard originators and founders while continuing to draw and keep the attention of newcomers from all walks of life who come for the music and stay for the family values. As it says on Good Vibes' T-shirts, "Live in your world, Rave in ours".