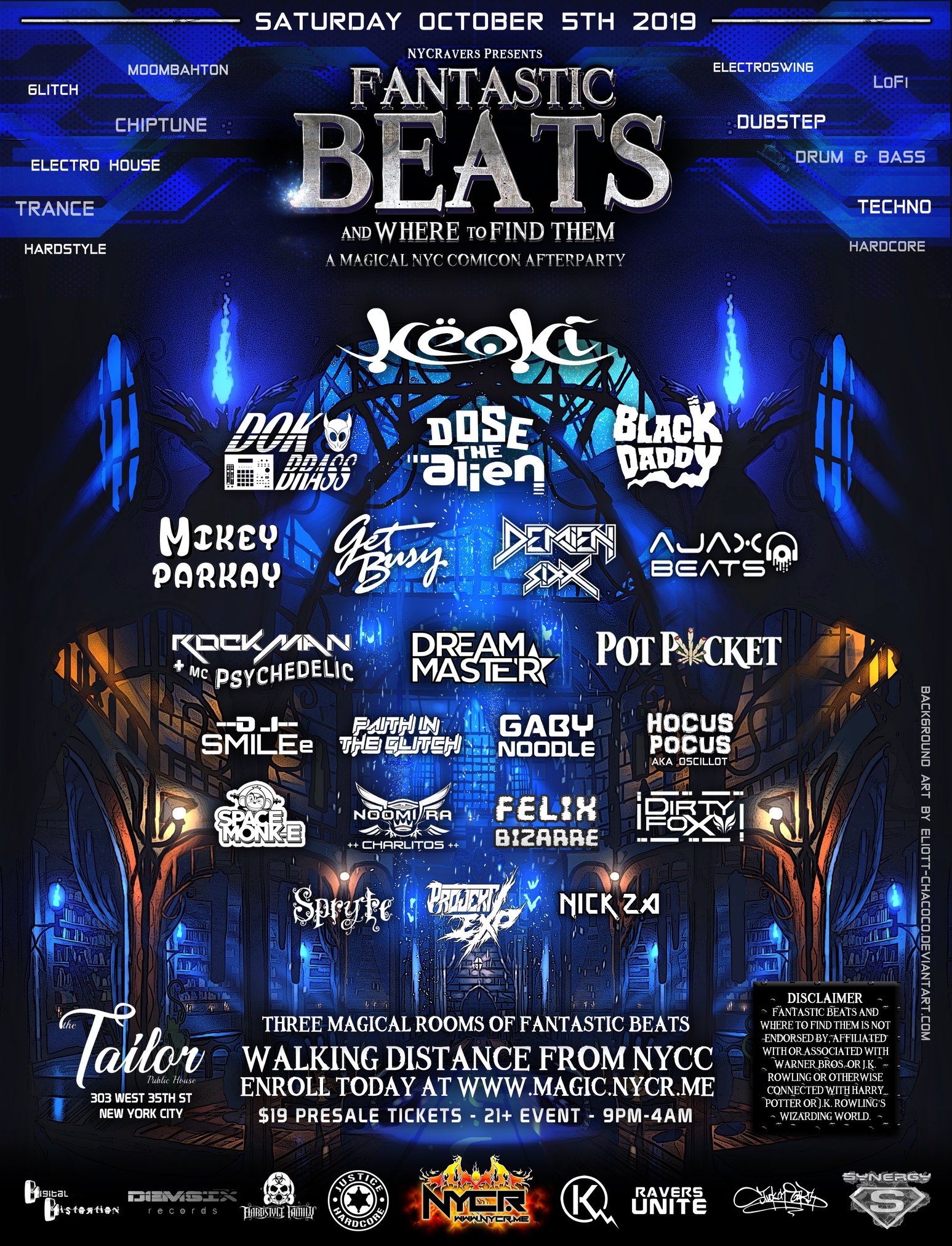 For nearly a decade NYCRavers has organized an annual rave as the unofficial New York Comic Con after party. This year the tradition continued as they turned an appropriate venue, just blocks from the Jacob Javitz Convention Center, into a magical Harry Potter themed dancehall.
Some of the NYCR street team was spotted at Comic Con days leading up to and including the event handing out flyers and recruiting attendees, many of which would be going to their first rave and hearing some real deal underground DJs spinning hard edged underground dance music for the first time.
The venue, Tailor Public House, was not only accommodating, but very fitting to the theme as their motif appeared Gothic and pristine as one would expect Hogwarts to be. Quite a change from the usual Brooklyn warehouse feel ravers have come to expect from NYCR.
While many long time NYCR fans and friends were spotted on the dancefloor, a great deal of the crowd were newcomers as well as transplants from the Burner scene. There was even a Comic Con celebrity artist and film director dancing the night away and having the time of his life.
Every DJ brought their A-game.
A last minute addition to the lineup, Christian Bruna, a founding partner of the long-running Camouflage Drum and Bass weekly in NYC, took to the decks early in the night as any Junglist don would. He graced the crowd with a proper set of DnB bangers seamlessly mixed the way any master NY DJ would.
At peak time, in the main room, a true NYC legend, Superstar DJ Keoki of the historic Limelight nightclub and Save The Robots afterhours, portrayed by Wilmer Valderrama (That 70's Show) in the cult classic film Party Monster, spun a truly magical and flawless set of the most serious straight-up Techno music heard at an NYCR party ever. The reactions from the crowd said it all, the rumble from the bass and dancing feet felt like a real NYC rave.
Once again, NYCR pulled off a successful night of fantastic beats, stellar art installations, great vibes and good times, carrying on the tradition of the New York rave scene proudly and correct.